Tigray – State of Affairs: A First Person Account
In the beginning of July, I went to Tigray for a family visit, my first ever visit in nearly two decades. The decision to travel did not come easy, it took months of too many questions, hesitations, cancellations and consultations with family and friends.
My reasons were simple: uncertainty. Witnessing the devastating war, siege and destruction of the last three years from afar, I was wary of what could go wrong, uncertain about what to expect, what I would see, in what state would I find my family and relatives, and general apprehensiveness about the devastating war and its impact on Tigrayans and the unpredictable behaviour of the Ethiopian government.
Pre-flight Check-Ins
Once I overcame my hesitations and booked a flight and embarked on the journey, I also found out that this visit was not only about the physical journey to Tigray, but it was also a different journey into my inner world, a journey of reflection on recent experiences and memories, a journey to process and explore the war in Tigray and the surrounding events and their disruptive psycho-social impact on who I am and how I see the world around me, and to a certain extent to reexamine my diaspora lenses, filters and check on my biases.
Even if I lived far from the immediate context of the war, the precautions I was taking before my journey – like deleting social media apps from my phone, disabling my emails and cleaning some of my digital footprints, and constantly calling home to check for any updates, I became aware of the fact that the war I witnessed from distance has left indelible impact and I was not beyond its ramifications.
This awareness became clear in one particular incident just hours before I boarded my flight at the airport in Oslo. While I was waiting to check in my baggage, in the queue, I stood with a couple of people from different African countries. In front of me stood an Eritrean, with whom I struck up a conversation. From our conversation I noticed we had some commonality and shared stories like both of our families were deported (his from Ethiopia, mine from Eritrea), the challenges of living far from families and the cultural challenges of living in different countries, travelling home after several years… One thing we did not share at that moment was language: even if both of us could speak Tigrinya, we spoke Amharic. Not quite sure about his choice to speak Amharic, because his Amharic was broken and he was clearly struggling to convey his thoughts. But for me, even if I could speak Tigrinya and make our communication smooth, I found myself subconsciously self-censoring and speaking in generic terms not to give any sign of where I am heading or who I am. The decision not to speak Tigrinya in public is one of the consequences of the war in Tigray, a war that criminalised and made the Tigrayan identity the quintessential Other in the Ethiopia body politic.
This self-censorship, fear of speaking Tigrinya in public, continued while I was in Addis Ababa. Whether in a taxi or public spaces, even if it was emotionally and mentally exacting, I was constantly guarding and forcing myself to speak only in Amharic and speak in a generic manner and not to mention Tigray in any of my conversations. This enforced self-censorship had stopped once I left Addis and went to Tigray.
In contrast to the times of the war and how it was for Tigrayans, my experience at the airport and elsewhere in Addis Ababa was relatively peaceful. Before and after my trip to Tigray, for the few days I spent in the city, I kept some simple rules: keep my opinions and language/ethnicity to myself, don't stay late and be lucky not to get myself at the wrong place at the wrong time.
Otherwise, the city has become a "City of Discontent", with complaints about corruption, inflation, cost of living, religious issues, property taxes, insecurity and general resentment toward Abiy's regime dominating most of my interactions with strangers. Abiy's vanity projects and the "Green Legacy" initiatives have become lightning rods that draw the ire of many of the residents. Surprisingly and ironically, I found many being nostalgic about Meles Zenawi and the eras of the EPRDF. This was unexpected, however, it did not mean sympathy towards Tigray or Tigrayans, or a better understanding of the devastating war.
More shockingly, there seems very little awareness of what Tigrayans in Addis Ababa and elsewhere in the country were going through. The war hardly appears in everyday conversations and is drowned by other issues and when there were mentions of it, the narrative "the attack on the northern command" is the primary framework people use to interpret the events.
Travelling To Tigray
After spending a day in Addis, I took a flight to Tigray. It should be noted here that despite the signing of the Pretoria Agreement, at the moment, the blockade on Tigray has not been lifted. Land routes remain effectively closed, with the only available road via the Afar region, which is convenient for goods but too long, hot and unsafe for public transportation. Consequently, many Tigrayans are forced to pay exorbitant fees and take a flight either to Mekelle or Shire, then take a public transport or drive to different locations within Tigray.
Once I landed in Shire, I had the opportunity to travel across parts of Tigray for two weeks, and visit the cities of Shire, Axum, Adwa, Abyi Adi, Hagere Selam, Mekelle, Wukro, Al Nejashi, Adigrat, and few other small towns and places. The few words and images in this article will not do justice to convey the full picture, but I hope the article will provide a window into the current state of affairs.
Tigray – Land Of Extremes
What I have witnessed in my brief visit is a mixture of contrasting and extreme scenarios: there is a buzzling of life, poverty, abundance and scarcity, indulgence and inequality, and everything between life and death.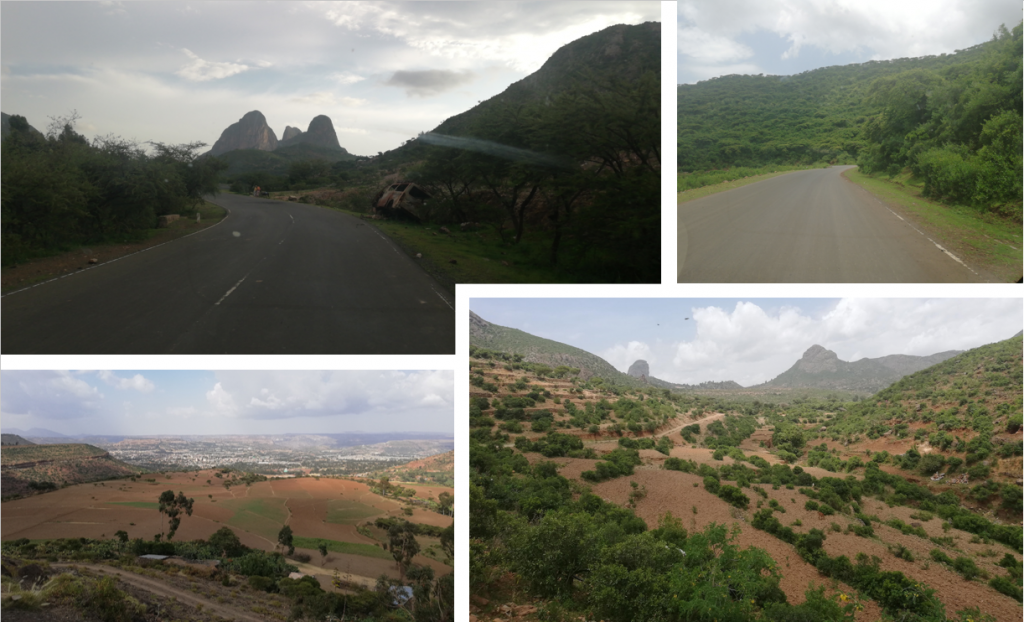 People are trying to survive and make a life out of what is left of the war. Visuals of war and destruction like burned cars and buses, destroyed buildings and roads, and factories can be seen everywhere.
When one leaves the premises of the cities and towns, the scenery changes to spectacular landscapes, forests, terraces and farmlands, where green dominates, indicating the rainy season has been good so far.
First Impressions – IDP Camps
The first thing that caught my attention when entering most of the cities is how overcrowded they have become. Tigray cities seem to have more people than they could handle, especially big cities like Mekelle and Shire, where streets are seen full of people jostling with one another, cars and animals.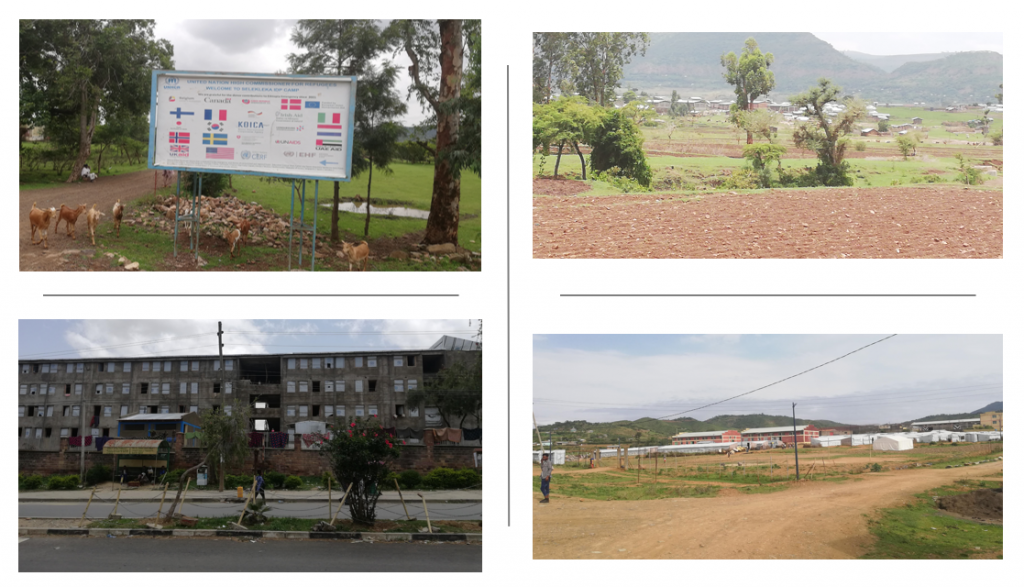 I did not realise why the cities were overcrowded until I started to go around and saw many schools occupied by IDPs from western, southern and north-eastern parts of Tigray.
Of course there are IDP camps outside of the big cities dotting the countryside, but the ubiquitous presence of IDP camps within cities occupying public schools are the reasons behind the sudden surge of population and high number of unemployed youth filling the streets of the big cities.
Tigray – Land of Beers and Bars
As I continued my journey, I also noticed the unusual number of bars and beer distribution stores, both in big and small cities. In many towns that have a single country road, it is common to see rows of bars lining both sides of streets, often full and starting from 4 P.M.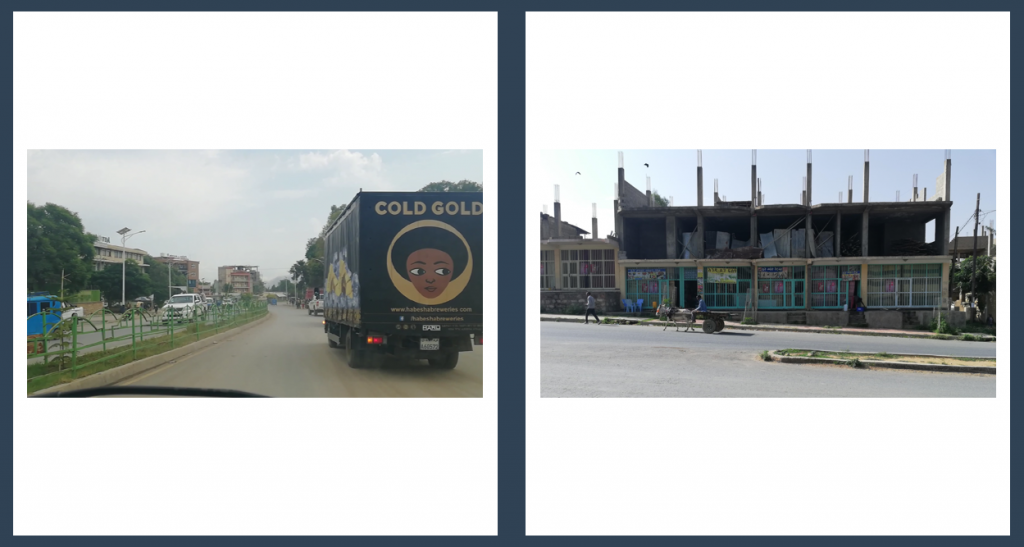 This could be "normal" for societies like Tigray that have yet to emerge from genocide, where people have very little coping mechanism available other than bars and drinking. But it also seems, the available brands of beer in the local market indicates the alcohol industry is fast becoming the most thriving economic activity emerging in "post-war" Tigray.
Of course, it does not help with the fact that the first factory to start working after the war is a beer factory in Maichew, southern Tigray.
The Teenagers Who Have Yet To Return To Normal Life and Home
One day, a close relative came to see me. The day before I heard that she was in the TDF (she is one among the many of my relatives who have joined the resistance) and was excited to meet her and ask some questions and hear her stories.
When I met her, I was shocked to see how young (teenage) and tiny she was physically and was wondering whether she was of the right age to join the army. And how and why was she not with her family but staying in a military camp at this age for months since the signing of the ceasefire.
I did ask her how she managed to join the Tigray army. She replied: "I inflated my age." Wanted to ask a follow-up question about whether the authorities had a background checking or screening mechanism in place, but dropped it – it was a luxury that was not available in war time.
I was baffled not only by her answer but her demeanour and stoic attitude. When I saw her face, I saw an impressionable teenager who lost her innocence and witnessed unimaginable violence, war and death.
Latest development after I left Tigray is the demobilisation of members of the TDF, but there remains a big question and task ahead: how will they return back home and lead a normal life?
Confused Airwaves, Dysfunctional Politics
One Saturday, I visited Axum and the obelisks. After the visit, I went to a nearby restaurant for lunch. I sat at a table in one corner. Behind me was a big-screen TV where people were watching while eating. The restaurant also had a loudspeaker playing music towards the streets.
While waiting, I was listening to the TV that was switching between Dedebit Media and Ethio-360 Media, and the loudspeaker that was playing Sami Berhane's (an Eritrean artist) album. A jarring experience, first the volume level was too high for my ears (Why are the volume levels too high?), and second, the fact of listening to the media with opposing political views with a background music of an Eritrean artist, all in one place.
Like its airwaves, Tigray's politics is far from clear. The rumours of war, conspiracies, party infightings and deadlocks, unsettled regional and national politics are also visible in the day to day lives of people. I noticed that people are generally self-censoring and wary of talking about politics openly, and are reluctant to speak their minds.
A Nation Is Born
Just before I left Tigray, I had a chance to talk to some and asked what they think of an "Independent Tigray". Their answers were varied, some were saying "it is not economically viable", while others were saying "now is not the right time, let's get our people to their homes and lands, then we can decide".
I want to finish my article with a saying I heard that left a lasting impression on me: "ሃገረ ትግራይ ኣብ ልብና ተወሊዳ ኢያ – Tigray is born in our hearts!".
A nation is born first in the hearts of its people, then articulated by its poets and prophets, but will eventually prosper or die at the hands of its politicians. As the cultural products coming out of Tigray and the religious developments indicate, there is a palpable yearning to see a free, democratic and independent Tigray, where justice and peace reign. Will the politics eventually align and match the aspiration of the people, or crush the emerging nation and condemn it to continue as part of the empire, time will tell.