Day 40 of war on Tigray: Abdalla Hamdok's brief visit in Addis Ababa to discuss Tigray fighting
Reuters reports that Sudan's Prime Minister Abdalla Hamdok visited Ethiopia briefly with an offer to broker a ceasefire in the Tigray region, a proposal Ethiopia said was unnecessary because fighting had stopped. Billene Seyoum, Abiy's spokeswoman said "Mediate what? The military altercation has ceased with the command of Mekelle." Ethiopia has rebuffed previous offers to mediate in the Tigray conflict, including from the AU. Hamdok returned within a few hours from what Abiy Ahmed had earlier described as a two-day trip.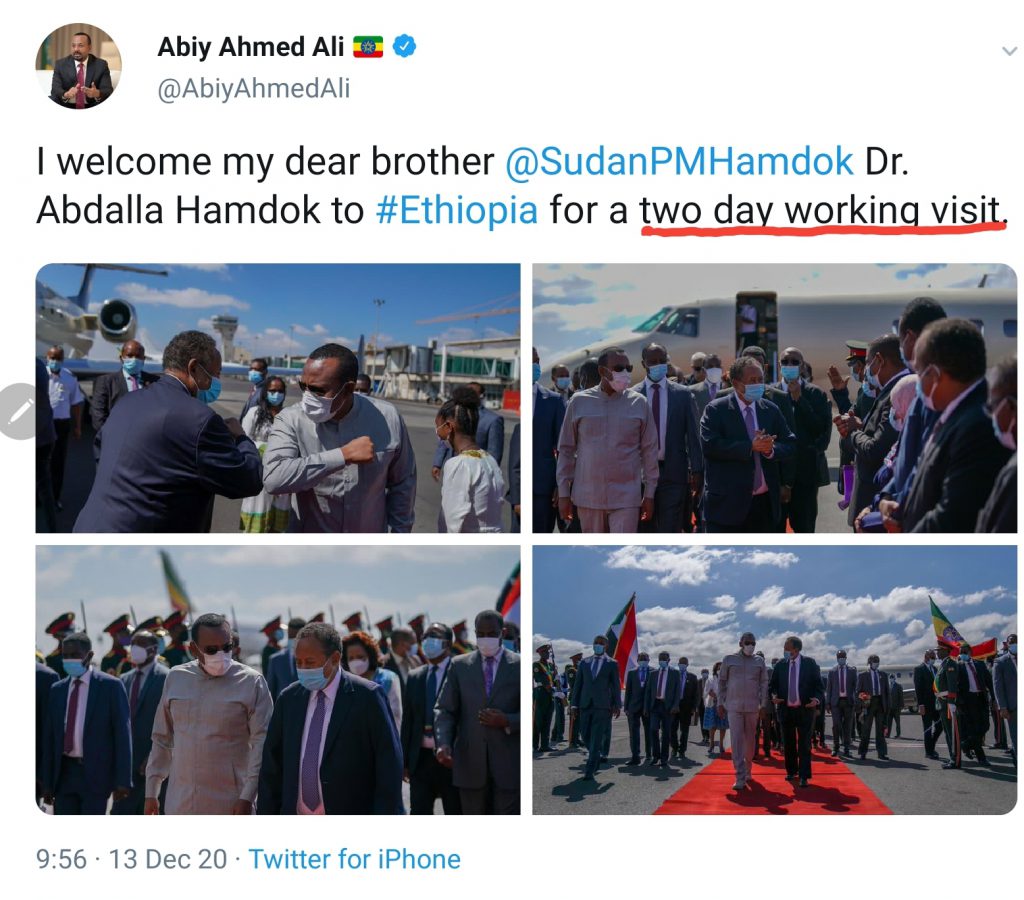 Sudan said that Hamdok and Abiy had agreed to resume negotiations about the Grand Ethiopian Renaissance Dam. Could Sudan use its control over key border crossings as leverage to press both sides in Ethiopia to talk?
In a related news, Sudan said it had agreed with Addis Ababa to hold an urgent "emergency" meeting of the Intergovernmental Authority on Development (IGAD) to resolve the crisis in the Tigray region. Sudan went on to say that Hamdok's visit led to fruitful negotiations on reviving a committee to work on delineating their shared border.
The office of Ethiopia's prime minister did not immediately respond. Abiy has resisted weeks of international pressure including from the US, UN and AU to accept mediation.
In a separate statement, Abiy said that he went to Mekele for the first time since federal forces claimed control of the city. He called ongoing clashes as "sporadic gunfire" not indicating major combat.
Went to Mekelle and met with commanders of the ENDF as well as the Provisional Administration of Tigray. Telecom & electricity currently being restored after repairs; infrastructure works underway & humanitarian relief provided. We will continue apprehending the criminal clique. pic.twitter.com/EkM2szlv7S

— Abiy Ahmed Ali 🇪🇹 (@AbiyAhmedAli) December 13, 2020
Over the weekend, AFP journalists saw trucks of soldiers heading towards Tigray, and ambulances remain a common sight in southern Tigray and northern Amhara regions.
Provisional administration appointed to oversee Tigray was urging civil servants and businesses to return to work on Monday. The head of the administration, Mulu Nega, said that anyone in Tigray in possession of a weapon — legal or illegal — should turn it over to security forces by Tuesday.
In Mehoni, residents bristled at the idea of being ruled by an outsider saying, "We don't want any other government. We want to be ruled by the TPLF."
Sweden's Television, Svt presents concerns of relatives of the millions of Tigrayans who have been stuck in Tigray for the last 40 days. As every Tigrayan living abroad asks, Fre Hagos and Neham Hassen ask about their relatives in Tigray:
Where are they? Are they hungry? Where are they hiding? We do not even know if they are alive, we do not know who is having a hard time. You just want to hear: "Yes, I'm fine. I exist", says Neham.
Situation Report, as of December 13, 2020, Europe External Programme with Africa includes:
Bombardment of civilians and areas of TDF suspected bases were reported using drones and fighter jets around Central fronts of Tigray.
Reports of three convoys of military trucks carrying soldiers and three trucks which were heading to supply fuel to Ethiopian National Defence Forces (ENDF) have been destroyed by Tigray Defence Forces around Mayichaw, the capital of Southern Zone of Tigray.
Alerts on frequent bombing of Tembien (Tigray) with increasing number of confirmations, speaking of indiscriminate attacks, taking place "nonstop all day today involving a huge number of fighter jets and artillery firepower"
Massacre reported in Tembien, a small town of Guya, around 30km west of Abyiadi town where more than 20 civilians are slaughtered by the military according to reports.
Soldiers brought by helicopter to Tembien are terrorising civilians to give up the location of the elected President of the Tigray regional government, reported.
Ethiopia (Tigray): Discussion of the humanitarian situation under "any other business"