Summary: A Congress of Churches and Church-affiliated Associations Issue a Statement in Support of His Holiness Abune Mathias
A congress of churches & church-affiliated associations laments the majority of the Ethiopian people betrayed the people & church of Tigray, condemns those who attack the patriarch for speaking & expresses support for and solidarity with the patriarch.
The statement [pictured below] written in Tigrinya by a congress led by His Grace, Abuna Isaias of the Mekelle Diocese and consisting of the Mekelle Diocese, Wereda subdivisions, the clergy, church workers, congregations, scholars, Sunday school students, and other stakeholders declares support for the message from Abune Mathias in which he noted the various genocidal acts perpetrated on the innocent people of Tigray including sexual violence committed against women and girls and the destruction of historical and religious heritage. The statement noted that the message from Abune Mathias only partially addressed the extent of the genocide that is being committed in Tigray. The statement condemns those who failed to condemn the genocidal campaign on Tigray, but dare to attack and harass the patriarch for speaking about it. The statement also laments that in this time of unprecedented invasion and genocidal campaign by the combined forces of Ethiopian government, Eritrea, Amhara, Somalia and UAE, the majority of the Ethiopian people have betrayed the people and the church of Tigray. It added that despite the time being a time of resurrection and joy, for the people and church of Tigray, however, it is a time of grief, fasting and prayer. The statement calls upon Tigrayans to stay watchful of wolves in sheep's clothing and concludes by expressing full support and solitary with His Holiness Abune Mathias.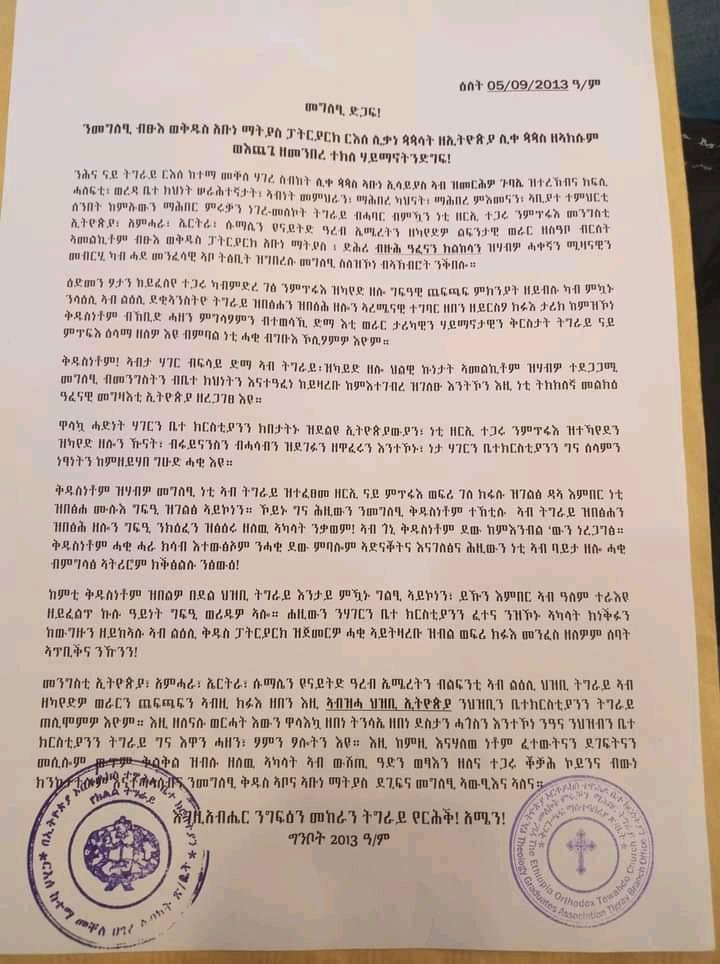 See also Statement of the employees of Mekelle Diocese and of the administrators of 45 monasteries and churches