Handtke's Map: Previously unseen 19th century map of Tigray includes Western Tigray and Eritrea
Researchers at Ghent University have published a previously unseen map of the Horn of Africa. The map was prepared by a German atlas printing house in the mid-19th century.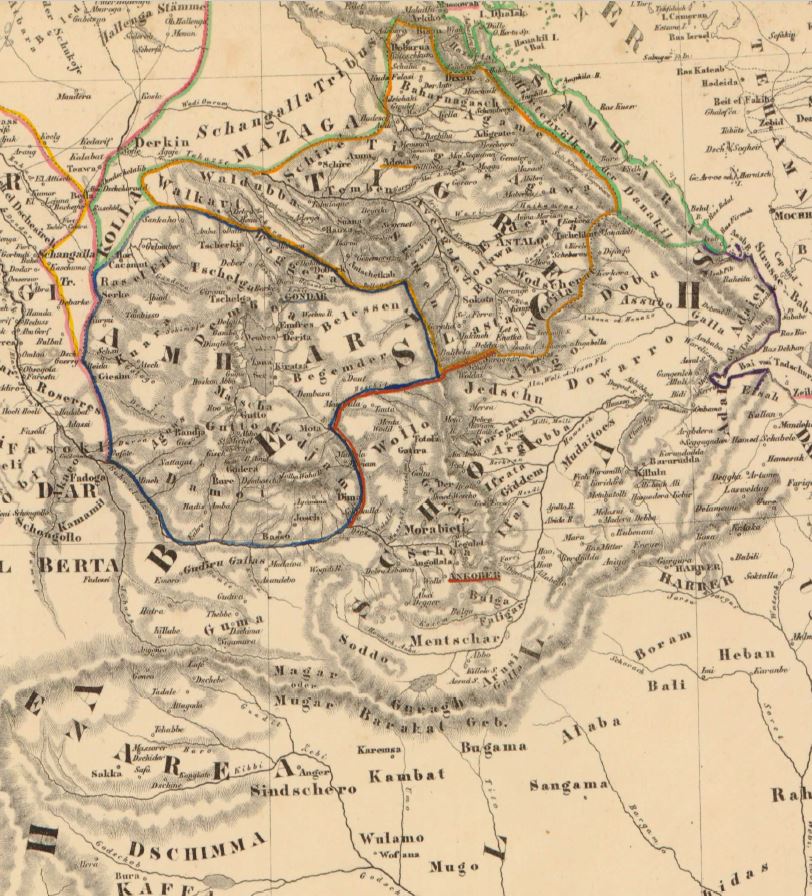 The map could be found at the National Library of Estonia. The map was made "in one of the few stronger cartographic publishing houses in 19th century Germany, managed by Carl Flemming (1806-1878)." The researchers wrote "Flemming was aided by cartographer Friedrich Handtke (1815-1879), who worked on nearly every map assignment for the firm (Brogiato and Fick 1997; Witkam 2007)."
The researchers wrote that the Red Sea Coast, Egypt, "Nubia" and the northern and central Ethiopian highlands were known and "Tigre", "Amhara" wewe mapped in relative detail, and to the south with fuzzy boundaries for "Schoa". "Amhara" corresponded largely to the current Amhara region, yet with Wollo as a separate entity.
The territorial map of Tigray (old spelling "Tigre") included the "Eritrean highlands ("Baharnagasch") and the current Tigray region, clearly comprising the current Western Tigray with "Walkayt" and "Waldubba". By 1849, Eritrea had not yet come into existence as a separate territory (Ullendorff 1965)."
Other Relevant Maps and Resources:
There are other sources that also show that Tigray was a lot bigger than (some times four times) what it is today. A book by Manoel Barradas: Tractatus Tres Historico-Geographici (1634). A Seventeenth Century Historical and Geographical Account of Tigray, Ethiopia shows the extent of Tigray in the 17th century. Professor Ghelawdewos Araia has summarized.
A screenshot of a page from Manoel Barradas' book explaining the extent of Tigray: "From North to south, that is from the limits of the Amacens (Hammasiens) to Enderta".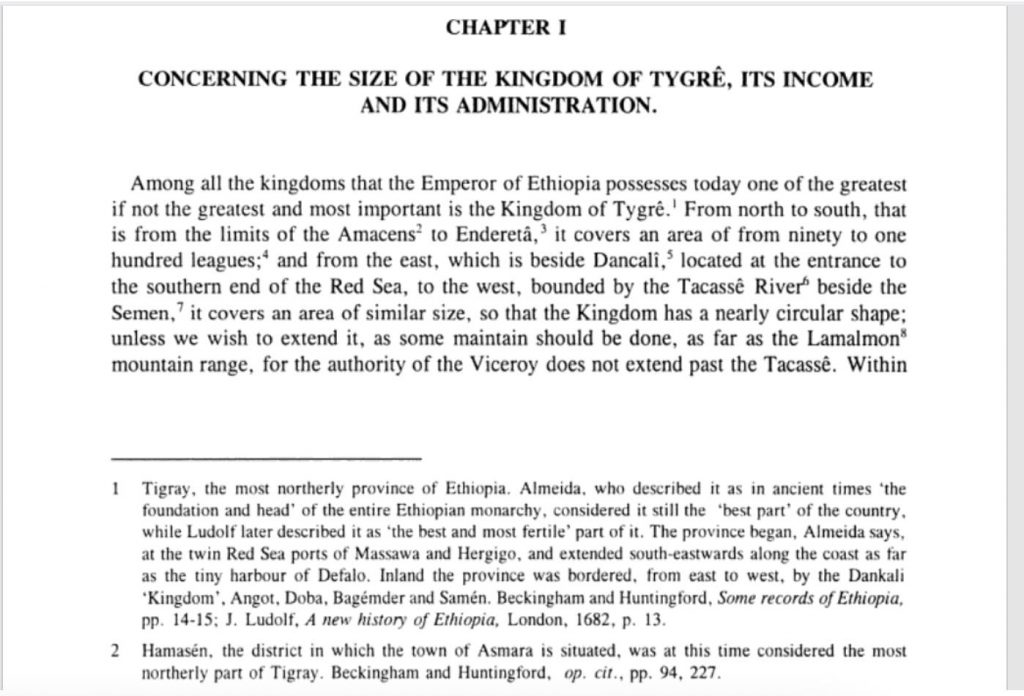 Another book, A VOYAGE TO ABYSSINIA by Jerome Lobo (​​1887), seems to include the Semien Mountains as part of a Tigrayan territory.
The Ethiopian states of today are organized on the basis of people's identity, culture and consent and it has provided ways for people to express their consent through referendum. But we believe these resources will help in countering the incessant, baseless and anti-constitutional claims by Amhara politicians of Western Tigray. It is important to note that Amhara, let alone owning Western Tigray prior to 1991, didn't exist. There were only Gondar, Gojam, Wollo and Shewa.
Additional Resources and Articles