Note: if you know of protests that are not included here, send photos, videos, place, time and a bit of description to tghat.media@gmail.com and we will include them.
---
we present here a photo essay of the different protests taking places across the globe wherever Tigrayans live. For more than 3 months, Tigrayans across the world have been living in fear for the country as a humanitarian crisis driven by continuing armed conflict ravages the Tigray region.
The UN describes the humanitarian crisis in Tigray as "dire"
There have been reports of bombings, mass killings, rape, and sexual violence
Tigrayans are trying to raise awareness of the issue
I am greatly concerned by serious allegations of sexual violence in the Tigray region of Ethiopia, including a high number of alleged rapes in the capital, Mekelle. There are also disturbing reports of individuals allegedly forced to rape members of their own family, under threats of imminent violence. Some women have also reportedly been forced by military elements to have sex in exchange for basic commodities, while medical centers have indicated an increase in the demand for emergency contraception and testing for sexually transmitted infections (STIs) which is often an indicator of sexual violence in conflict. In addition, there are increasing reports of sexual violence against women and girls in a number of refugee camps.

United Nations Special Representative of the Secretary-General
And those fears are widely supported by reports of mass killings, bombings, and widespread communication blackouts.
Now many Tigrayans are taking matters into their own hands, raising awareness about the issue and calling for urgent action.
Protests across the US and the world kicked off on January 28th as people pledged solidarity with victims of the ethnic-based violence.
"We are saying this not only because a political leader is being killed, but also because innocent people are being killed". Those who were being persecuted, killed, burned, and looted are innocent.
They also called on the US government to expedite the withdrawal of Eritrean troops from Tigray and to open access for humanitarian assistance.
"The people of Tigray are starving not because of an absence of aid or food. There is money on our hand raised from all Tigrayans. But there is no access to Tigray. International NGOs are waiting to deliver aid. Abiy Ahmed and his supporters are deliberately shutting down access and starving people," said Meaza.
"We'll continue to make good trouble until our land and people are free. Your intimidation and threats will not stop me from speaking up for my people."
Melbourne, Australia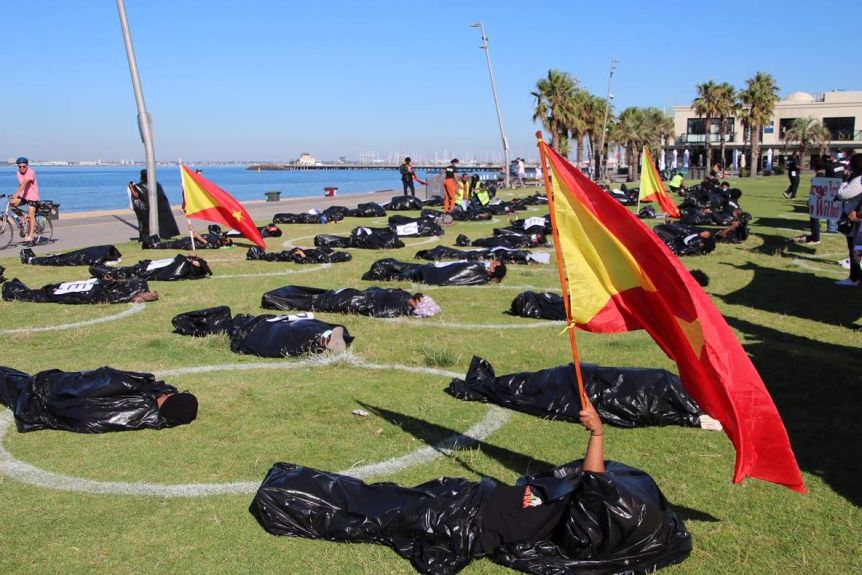 Saint paul, Minnesota, USA
Columbus, OH
London
Sydney, Australia
Denver, Colorado
Dallas, Texas
Seattle, WA
Washington DC
Atlanta, Georgia
Perth, Australia
Perth protest organizer, 33-year-old Araya Abera — who was born in Tigray — said he was more determined than ever to be a voice for the voiceless.
Mr Abera says he is trying to be a voice for the voiceless.(ABC News: Hugh Sando)
"There's a genocide that's happening in Ethiopia, in Tigray at the moment. It shouldn't be ignored. A lot of lives are lost. This is not a political movement, this is a humanitarian movement," Abera said.
Professor Haliu says the issue is about crimes against humanity, not politics.(ABC News: Hugh Sando)
Professor Atakelty Haliu, an academic at the University of Western Australia who is originally from Tigray, believes it is vital the issue gains international attention.
"This is happening in the 21st century … if you asked me two years or one year ago if this could happen in Ethiopia, I never thought it could happen," he said.
"Journalists have been reporting what's happening but the UN needs to go beyond urging, beyond expressing concern and if it has an agreement with the Ethiopian government for access to Tigray, it should have it.
"This is about human rights, it's about crimes against humanity, it's not about politics.
"The world is just watching and talking, but you don't stop wars by talking … the world has to take concrete steps."
The Hague
Toronto, Canada
Geneva, UN HQ.
Tilahun Kassaye writes about the hoisting of the flag thus:
"Millions of minds have already made up. Our flag is rehearsing to fly in it's rightful place! This is a real and collective aspiration to prevent any more rampage and carnage, fulfil our dreams for self-governance, and nurture a better tomorrow!"
The war on Tigray has ushered in a new spirit of Tigrayans, a quest for full liberty and independence.