These stories came to my attention on days 132 and 133 of the war on Tigray. The details can pierce the soul and break the heart of a compassionate human. Try not to cry if you think you are one.
Day 133:
What is the human cost of the war on Tigray? This Sky News report touches only on the tip of the iceberg. Every bit of the story has a deeper story in it.
I cried with Haileselassie Kiros several times, each time for a slightly different reason. First, I cried as I watched him suddenly break into tears. His pain hit my soul hard. Then I paid attention to his father's name, Kiros. This name has a special meaning among Tigrayan parents. It shows that Mr. Kiros (Haileselassie's and his murdered brothers' father) had only a few siblings, or none. This is utter genocide on the family.
The name, Kiros, also brings me two excruciatingly painful personal memories to my mind. If I continue writing about it, I risk masking the most important stories covered in the media today.
An eyewitness told Sky News the following.
There are a lot of people who died but their bodies were eaten by hyenas… after a week we found only bits of clothing. We identified them by the clothes they were wearing.

Full story: Ethiopia: Hundreds executed, thousands homeless – the human cost of fighting in Tigray
One of Abiy's generals, Yohannes Gebremeskel, has told diplomats that the war on Tigray is "a dirty war."
This is a dirty war because it's affecting everything. You don't see fronts. The cost is immediately to those who are defenceless. On the atrocities, rape, crime… I cannot give you concrete evidence, but I don't think we are going to be fortunate to see that such things have not happened.

Source: Ethiopian general tells diplomats of 'dirty war' in Tigray
When Yohannes said the war is a "dirty war", would he possibly have stories like Kibrom's in mind?
Kibrom Hailu wasn't too worried when his 15-year-old son stepped out to play volleyball one morning last month near their home in Wukro, in Ethiopia's conflict-hit Tigray region.

There had been protests in town that week — young men burning tyres and denouncing Prime Minister Abiy Ahmed — but his son, Henok, wasn't involved and promised not to go far.

Only when he heard gunfire did Kibrom realise the danger, and by then it was too late: Henok's body lay dead in the dirt road right outside the gate of their compound. Henok was one of 18 civilians shot and killed that day by Ethiopian soldiers.

Source: 'The fighting continues': A Tigray town reels from drawn-out war
Day 132:
On the 132nd day of the war, one of the top stories that came to my attention focused on the wanton destruction of health centers in Tigray, despite the government's blatant lies.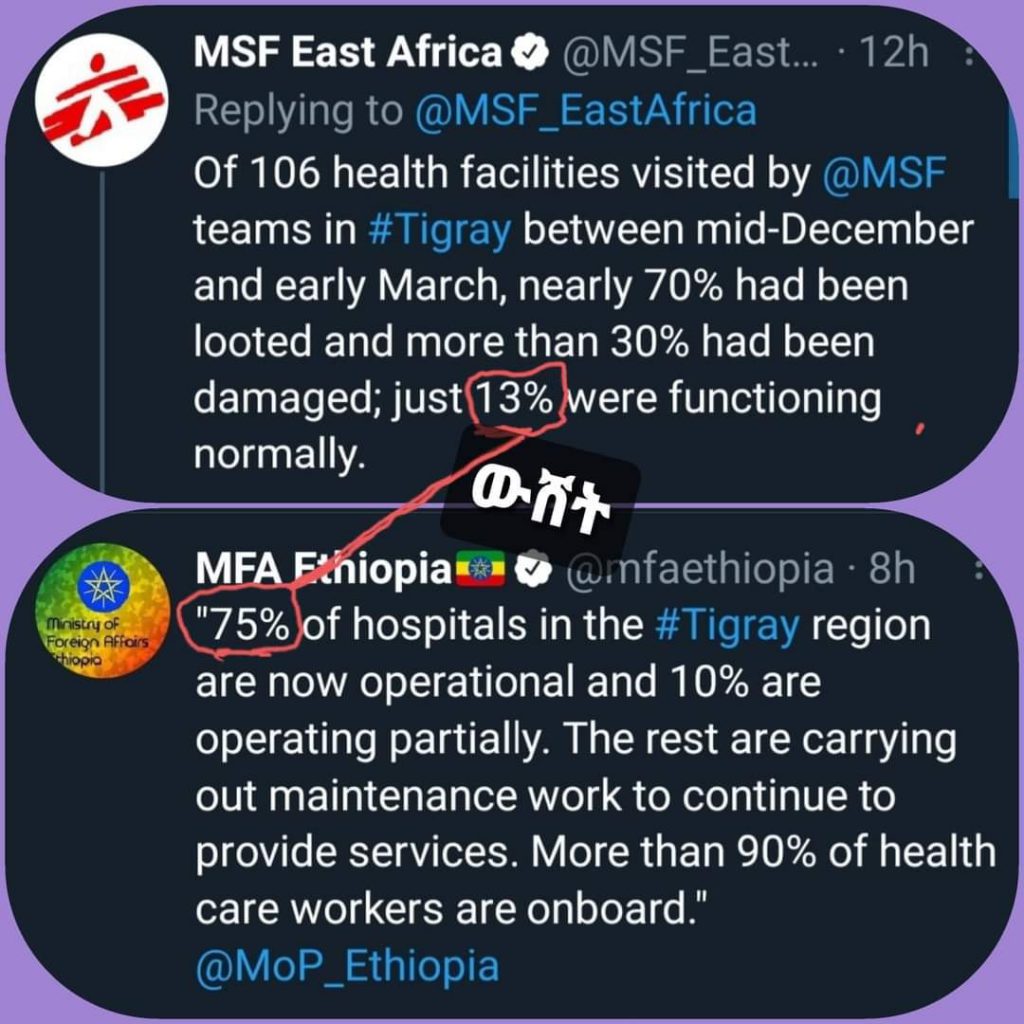 MSF reported Monday that its teams visited 106 medical facilities in Tigray and found that 30% had been damaged, 73% had been looted, and 87% were no longer functioning.
On Monday, DER SPIEGEL has stories from the "chronicler of horrors," a Tigrayan Doctor-turned a refugee, who chronicles the agonizing stories of his fellow Tigrayans "in his little black notebook." Another young Tigrayan man tells how he was forced by the Eritrean soldiers to, in his words, "dismantle my native city [Adigrat]."
The Ethiopian military and its allies are using starvation as a weapon of war in Tigray. People are surviving by eating roots."

Source: Chronicler of Horrors
One of the weapons Abiy Ahmed uses is lies, grandiose lies. (I call him homo mendacious for the same reason). The following excerpt debunks one of his biggest and most frequently told lies: That the war started because TPLF attacked the Northern Command. The truth is that Abiy and his mentor, Isaias, the architect of the war, had long planned it.
Prior to that, Abiy apparently tried to have TPLF leadership arrested. When that failed, TPLF troops attacked an army base. In response, Ethiopian troops marched into the north, with soldiers from Eritrea also crossing the border. That, says Mirjam van Reisen, an expert on Ethiopia at Tilburg University in the Netherlands, indicates that Abiy Ahmed's war had likely been planned long ahead of time together with Ethiopia.
Check out this article on Tghat for details of the pre-war developments.
Foreign Lobby Report quotes Von Batten and I quote:
The main push right now is to ensure that one, we have a ceasefire, and two, that all foreign troops leave the region — especially foreign troops. So far, we've heard about condemnations. We intend to push to see some action, some teeth to this.

Full story: Former Rep. Connie Mack joins growing lobbying push on Ethiopia conflict