Birhan and her family were walking from their village to Mekelle hoping to find food when her sister Azmera died from exhaustion and hunger and Birhan and her mother both became very ill. Once in Mekelle, her father was told that Birhan was that Birhan was dying, and her father, Woldu Menameno wrapped Birhan in a burial cloth and began digging a grave. But then he saw a sign of life and he brought her back to the nurses who were able to restore her to health. This image of Birhan Woldu – near to death from starvation – was captured by a CBC documentary crew led by Brian Stewart and Tony Burman and shared across the world. This was in 1984.
Birhan became an iconic symbol that rallied the world to address the 1984/1985 Ethiopian Famine. Bob Geldof organized Band Aid and released, along with other world-famous artists, the song "Do They Know It's Christmas?". Former British Prime Minister Tony Blair said the image of her face "changed his life." Birhan survived the Great Famine and grew up to be a nurse. She has since been paraded as a success of the international community to address the Ethiopian famine, appearing in the music video of the re-recording of "Do They Know It's Christmas" for Band Aid 20, the Live 8 concert in London, and Madonna's performance of "Like a Prayer".
In a 2004 The New Humanitarian (then IRIN) article titled "Face of famine' has evolved to hope 20 years on", Birhan said, "Sometimes I can't believe I survived because hundreds of thousands of children like me lost their lives".
Birhan adds, "I pray this never happens again and I am thankful for all the help we have received, … But what we need is schools to educate ourselves, dams for farmers so they are not dependent on the rains. We need health centres and industries for people to have jobs. We need to be able to stand on our own and not always be reliant on aid."
In 2021 – 37 years after the Great Famine – another Tigrayan child Letebirhan has emerged as the new face of famine. Letebirhan's image was captured by CNN crew led by Nima Bader. Leterbirhan's father, Girmay, had to carry her and walk a "dangerous and costly" 60 km from Chila to Aksum to save her life. "There is no help, no food, nothing. I didn't have a choice though — look at her," Girmay said. Letebirhan's hunger-weakened legs cannot carry her body. "The medical team were doing their best to keep her alive, but they had run out of a therapeutic feeding agent due to the blockade, the only way to help her gain weight without disturbing her delicate system.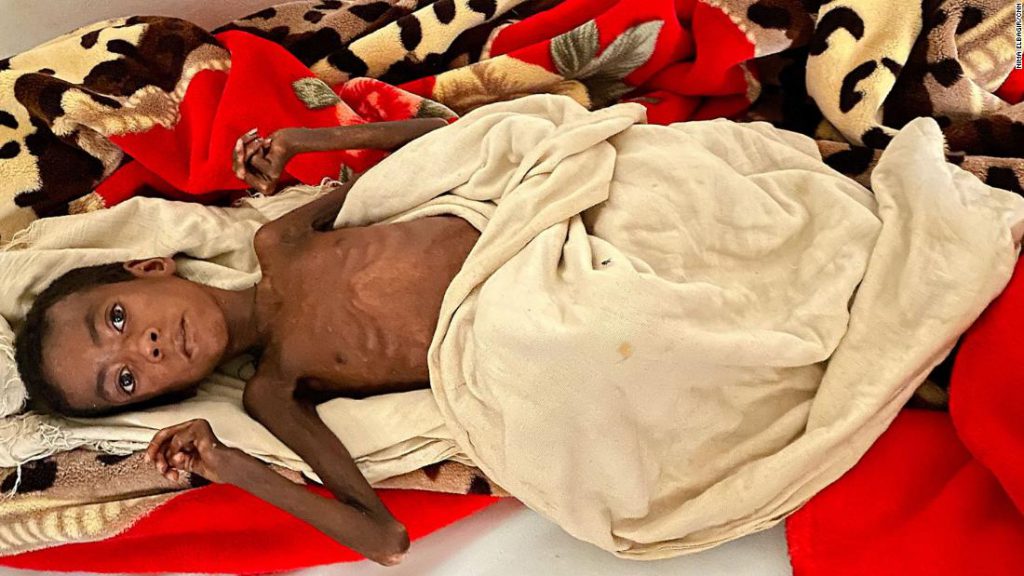 In 2021, the things Birhan said were needed – health centers, schools, dams for farmers, industries – have been deliberately destroyed. A far worse catastrophe, a genocide, has visited Birhan Woldu's homeland of Tigray. The number, the intent, and the capacity of the enemies together with international apathy mean that the current catastrophe is actually much worse than what we saw almost four decades ago.
Will the world show the same compassion and heart that it demonstrated in 1984? Are there Tony Blair's whose lives will be changed by seeing Letebirhan's image? Are there Bob Geldof's still in the 21st century? Are there world-famous artists that can be moved into action?