Ayder Doctors and Health Professionals: "Hoping Against Hope!"
We, the Doctors and other health professionals of Ayder Comprehensive Specialized Hospital – College of Health Sciences, Mekelle University, hear and experience firsthand the daily suffering our patients are enduring. As we had solemnly sworn an oath to protect and save our patients from suffering, the least we could do on difficult days like these ones is to become their voice and ventilate their sufferings for the world to hear.
Editor Note: This statement is sent to us from Ayder Referral Hospital Doctors and Health Professionals. It has four parts: their general statement and case stories, case stories, challenges they face and mass starvation.
Position Statement: Doctors and other health professionals of Ayder Comprehensive Specialized Hospital – College of Health Sciences, Mekelle University
"Hoping Against Hope!"
We, the Doctors and other health professionals of Ayder Comprehensive Specialized Hospital – College of Health Sciences, Mekelle University, hear and experience firsthand the daily suffering our patients are enduring. As we had solemnly sworn an oath to protect and save our patients from suffering, the least we could do on difficult days like these ones is to become their voice and ventilate their sufferings for the world to hear.
The statement below, therefore, is the collective voice of all of us working in the hospital and the college echoing our patients' plea that we hear every day for the last six months.
We have no doubt that anyone listening or reading this position statement will be cognizant of the fact that meeting the health needs of a community in a low resource setting such as ours is a very daunting endeavor, even in times of peace and stability.
To substantiate on this, we wish to put some historical milestones of our college in to perspective:
We, the Doctors and other Health Professionals of Ayder Comprehensive Specialized Hospital – College of Health Sciences, remember our humble beginnings 14 years ago. We remember that, back then, our 500 – bed hospital had stood empty and idle for nearly a decade because of severe shortage of health professionals, medical instruments and financial resources.
We also remember how this once empty hospital had grown fast through the hard work and perseverance of all of us, the unwavering support of our university, national and international partners.
A hospital that was barely better than a countryside health post in the early days of its establishment, grew to be a specialized referral center a decade later serving a catchment area of 9 million people from Tigray, neighboring districts of the Afar and Amhara regions.
It won't be forgotten that our hospital had been also serving Eritrean refugees staying in the camps in Northern Ethiopia for quite a while. It is also to be well remembered that patients from Eritrea were well taken care of in our hospital during the brief period of border normalization in between our two countries in 2018.
Our hospital's annual patient visits had risen to nearly 300,000 and thousands of major surgeries, deliveries and a wide variety of interventions and treatments used to be given.
We all took those positive developments for granted and it was customary for us to focus on future progress rather than dwell on past achievements.
However, while mentally unprepared, we have found ourselves, in such a short period of time, in a situation that we would never ever have considered possible in our wildest imaginations. How could we ever have expected to cancel surgeries for lack of intravenous fluids, anesthesia drugs or tell patients or their relatives to find intravenous fluids somewhere in the city while the patient needed quick support?
But, we have been forced to work in a hospital without intravenous fluids, gloves, even the most commonly used antibiotics, anti-pain medications, drugs vital for women undergoing labor and delivery, drugs for various kinds of mental illnesses, basic laboratory tests, and a lot more other essential drugs.
The availability of essential drugs, which was 79.3% a couple of years ago and 82% a year ago, has now gone down to 17.5%.
The availability of laboratory tests, which was 93.7%, a couple of years ago and 84.2% a year ago, has now gone down to 42.1%.
The numbers are going down rapidly every week. The oxygen supply to our hospital has become very unreliable and resulting in the death of patients because of the frequent breaking down of the machines that could have been easily repaired if we got spare parts from the manufacturer through Addis Ababa to Mekelle which is now completely impossible.
To make matters worse, electricity blackouts have become more common and prolonged for days at times. There is no means of communication within the hospital and beyond. Thus, we have to walk and find the person we need, even to do something trivial.
We, the staff of the hospital and the college, haven't lost hope despite the huge psychological burden that we have to deal with as a result of witnessing what is happening to our patients on a daily basis.
As you might all be aware of:
We haven't been paid our well-deserved salaries for the last seven months, our extra – time payments for nearly 13 months,
We are unable to withdraw whatever amount of money we have had in governmental and private banks because of the complete shutdown of banking service
We have nothing to feed our families and ourselves
Against all odds, however, we have continued to serve our patients with whatever supplies at our disposal!
We have:
tried to produce fluids locally to clean infected wounds,
beg business people or residents in the city to give us detergents, soap, bed sheets and other linen for free or on credit to be able to keep the hospital running.
We have used and are still using expired drugs when that is the only option left. We have tried to give care to those in the most urgent need and ask others to wait knowing that those who are waiting are also getting closer to hapless conditions.
Our neurosurgery team have decided to operate on patients with problems in the brain just based on clinical examinations, without having the support of CT scan and/or MRI images which have both been not functional for many months because spare parts could not reach our city due to the complete blockage.
Supplies that we used to get for free from donors and partners as well as business counterparts have not reached our hospital for the last six months.
As a result, children who needed shunt surgeries are left to die, those with treatable cancers are denied their rights and those with fractures are forced to wait while being immobilized.
Those who could easily have been saved with hemodialysis are dying. Patients who have had dialysis for years at our hospital are forced to die just because the supplies that could have been brought are not allowed to reach us.
The world is tested with COVID19. Add a large-scale, full-fledged War on it. Then add a siege on it. Imagine these three combined in a poor region that struggles for survival even in times of peace and stability.
We earnestly believe that there are very good people out there in Ethiopia, horn of Africa, Africa and the rest of the world who could be the advocates of our patients, our health professionals and our people. We wonder how the world lets this man-made crisis continue unabated while it has all the capacity and the means it needs to stop it.
We, therefore, humbly and respectfully request all health professionals in Ethiopia, Africa and the world to be the voice of our patients and stand with us in our effort to end the crisis. We also request the Ministry of Health of Ethiopia, different UN and other international organizations, all the other local partners, NGOs as well as international partners to intervene and bring the misery of several months to an end.
Whatever the cause of the war is, it cannot be right or ethical to deny patients lifesaving health care. Neither can it be justified to completely withhold a hospital budget for several months as if it is never the responsibility of the government of Ethiopia to let a hospital carry on its activities and deliver health to innocent civilians at an urgent need of care.
We, people in the world, live on a tiny planet and our destinies are intertwined. It would be very heartbreaking to see those with the power and capacity do nothing except viciously say that they are "concerned", "very concerned", and "gravely concerned".
It is already very late but those national, continental and global authorities in health as well as governments and organizations responsible for solving such problems can still avert a catastrophe.
We have seen the world do that before and we, your fellow brothers and sisters, believe and hope against hope that you will do the same this time around as well.
Truly yours,
Doctors and other Health Professionals of Ayder Comprehensive Specialized Hospital – College of Health Sciences, at Mekelle University in Tigray
January 4, 2022
Case Stories
1. A Neurosurgeon's Day in the Emergency
During one weekend, I was a neurosurgery resident on duty at ACSH. I had a handful of emergency cases to be operated on but there was an early morning notice from the OR that operations, no matter their emergent demand, would not be done for there were no oxygen cylinders and crystalloids.
I am a neurosurgeon, yet all I can do to help my emergency patients is to follow them and God forbid to witness their death if things go south. I stayed out the whole day in the ER and at around dusk, I went back to the OR to see if there were any changes regarding the resources we were short of. Nothing was new.
On my back from the OR, I saw 3 – 4 people rushing to the ER carrying a kid. There was a sudden outburst of screaming to the silent ER. I then followed these people and I saw fresh blood stains blighting the white floor of the ER. I had to hop over the blood stains to trace the bleeding patient down to the corridor into her room. In the room, the kid patient was still bleeding in pain. The ER physicians were trying to stop the bleeding with their bare hands. They were pressing hard to stop the bleeding using only a few gauzes.
I asked the nurses to get me more gauze and use gloves and they replied, "the ER ran out of gauze and gloves" and were told to work with their bare hands. The gauze they were using was all they could get. I used a glove I had on my pocket and examined the kid and ordered the nurses to secure the IV line, get a blood work, start IV fluids and bring me a minor set to suture her wound.
They secured the I V line but they cannot get IV fluids. I ordered the intern to go get a blood of her blood type, if not a universal donor. He streamed out. Another nurse came back with a minor set and a suturing material only to prove there was no fluid in the pharmacy. Then, with my gloves on, and with the help of physicians there, I immediately sutured her scalp and luckily the bleeding stopped.
We got the only moderate antipain we had and gave her through the IV line. Yet the pain was not relenting. I was faced with shock and pain that my ER failed to provide me resources with it. Looking down on the floor, the volume of blood on the floor was inconceivable. The kid does not seem to have such an amount of blood.
I raised my head, I saw a middle aged stern looking man standing at the end of the couch where the kid was sleeping. He looked frightened and his hands were wrapped around his head. Across him was a young dark skinned pretty young woman with gorgeous eyes and she was praying intensely with both her hands clasped, her face full of tears and her mount mumbling words silently. It was not hard to see that she is her mother and she is in complete state of terror and shock.
I approached the man to learn what happened and he told me that he is only a Bajaj (small taxi) driver. I saw his lips trembling, shocked by what he had witnessed. To her mother, I comforted her to put herself together and tell me what happened. She says the kid is her daughter and her name is Diliet and during that incident the kid was watching a cartoon movie at her house. While she moved outside to the veranda, a sudden thunderstorm blast happened and her daughter was lying on the ground. Soon, she rushed to pick her daughter up and saw blood gushing from her skull. She realized it was a drone attack near her house. People also started gathering at her house. She could not believe what happened to her daughter. Someone was shocked and wanted to call an ambulance but there was no ambulance around. Then they shout to hail a taxi, yet, Diliet was unconscious and bleeding out. The one who went out was not back shortly and another followed. Upon returning, they said no fuel was there and could not find transportation.
"Then a Bajaj owner came to help without asking price, out of courtesy. Diliet was bleeding out and there the Bajaj driver tried to press it with his hands to stop the bleeding. But it stopped. Then the driver drove her to our ER."
While asking them what happened, I saw Dilet groaning in pain again. The mother exclaimed "Please God, let her pain be upon me. Why are you letting my DIlet live through this?" I was saddened I cannot get other anti pain medication. Then, her mother with trembling legs and lips gathered her strength to reach out to her kid through her hands and cradled her to sleep through her pain. She was exhausted from the turbulence of emotions she experienced. Her mother said to me, "please Doctor, help and save my Diliet!" with broken words and eyes full of tears.
While this happened, the intern I sent to the lab told me there was no blood spared to this patient because the blood bank was not processing any blood for electricity blackout. What a terrible turn of events!
Finally, I decided to take a CT scan and rush her to the OR. Nonetheless, the intern told me that CT is no longer functioning for it stopped due to lack of spare parts. By then, I already knew operations were cancelled because of lack of anesthesia drugs, no oxygen and no crystalloids. Even without a CT scan we cannot get out of the problems. A flush of guilt, winced at me since I cannot take a look at the mother and tell her what is happening.
Not staying longer, Dilliet starts to turn her labored breathing into gasping. She was lacking air to breathe but she cannot tell us what was happening. Soon we started to do CPR with her mother standing there completely wrecked. After 30 minutes of attempt, we declared Dilet died of raised ICP due to brain bleeding and hemorrhagic shock. It was a disaster to break the news to the completely petrified mother and family that Diliet has not passed away and cannot come back to life.
2. A long Walk to Obstetric Tragedy
Story of TT
TT is a 37 years old mother who is on her 2nd week postpartum after giving birth to a 3.5 kg baby with a decapitated head.
She was referred from wukro hospital with the impression of retained after coming head + imminent uterine rupture
Laparotomy was planned in Wukro Hospital but there was no blood
Her labor pain started on Nov 12, 2021 in the evening but she was not able to visit nearby health care facilities because they were completely looted by the invading troops.
For this reason, healthcare providers of the nearby health center are giving home to home services.
In addition, she was not able to go to other health care facilities located far from her vicinity because there was no ambulance available to transport laboring mothers to the health facility because they were taken by the invading forces.
For this reason, she spent the whole night laboring at her home, and the next day, they called a local health care provider where her labor was attended.
At 4:00 day local time, the baby was delivered up to the level of the head. To deliver the head was attempted for about an hour.
Then she was taken to Hawzen hospital which is located around 10 km away from her village. She arrived there after 2 hrs. of journey on foot.
On arrival, she was told that the baby was not alive. Again trial of delivery continued there for another 1 hr then they referred her to wukro hospital.
After a tiresome journey 56 km by ambulance they arrived at wukro hospital.
In Wukro Hospital she was admitted to ward and given antibiotics and resuscitated. Then again a trial of delivery of the head was tried.
Meanwhile, the gynecologist saw bloody urine coming out of the catheter and considered imminent uterine rupture and planned laparotomy.
But he was not able to perform the surgery due to the lack of blood in the laboratory even in the town.
Then referred her to Ayder comprehensive specialized hospital.
On arrival the mother was exhausted and dehydrated.
She also had bloody urine.
The baby's cervical spine was completely detached from his head.
Then IV line was secured, and she was put on fast fluid replacement
Antibiotics given and the head was delivered successfully!
3. Story of Amit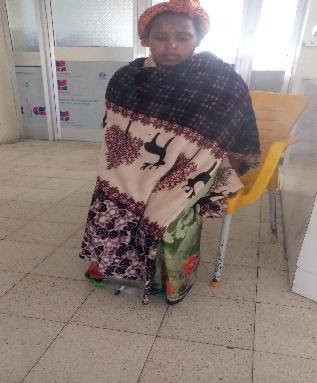 Amit is a 24-year-old Gravida II, Para I (alive, via SVD) mother who does not remember her LNMP but claims to be ammenorhic for the last 9 months. She had no any ANC follow up
The main road to their village was demolished on 21/3/13 E.C. by invading forces
Other nearby health center to their village (Gelebeda Health Center) whole material of the health center stolen and what remained was blazed by the invading forces
Since there was no transport, it takes around 10 hours on foot to Werkamba HC which is partially functioning (2nd nearest health center to their village
She was referred from Abi – Adi General Hospital with the assessment of Uterine rupture + severe anemia for the reasons of
Further management
No blood
No anesthesia drugs
Initially, the patient was pushing down pain. She stayed at her home for 14 hours (while her family was searching for people to help them carry and took her to a nearby health center. Then, she was taken to Werkamba Health Center by a group of people carrying her on traditionally made wooden stretcher. It took them 12 hours to reach Werkamba health center. She stayed for 02 hours in Werkamba Health Center, then she was referred to Abi – Adi General Hospital for there were no delivery materials for delivery. It took them 02 hours (by Ambulance) to Abi – Adi General Hospital.
She stayed 01 hours at Abi – Adi General Hospital while searching Ambulance and referred to Ayder Comprehensive Specialized (ACSH) which took 04 hours.
Total duration from onset of pushing down pain to reach ACSH was 35 hours. Patient claimed contraction ceased for the last 12 hours and lower abdominal pain became persistent. She also complains of vertigo, headache of 06 hours' duration.
4. Problems in the Dialysis Unit
"Two lives" a life story to share
This story belongs to Mr. ME who is a Mekelle resident. He didn't continue his education because of his kidney problem. He was working as a grader operator of asphalt construction and had a fairly good monthly income of 12,000ETB (400 USD) but later stopped when he had received a medical board certificate not to proceed with heavy work.
He lives with his wife named, a 35 years old female and his three kids. Both couples live in Mr. ME's mother's house. His kidney starts to develop stones first in 1997 and the stone was removed surgically by then. A second kidney stone grew in his right kidney and was complicated by severe infection-pyelonephritis/pyonephrosis and was operated for the second time in 2017. Since then, he had experienced repeated episodes of life-threatening kidney infections and hospitalization for intravenous antibiotic treatment.
Before three years in 2011 he was having persistent anorexia, nausea, vomiting and fatigue related to a build of uremic toxins and since then he was on twice weekly hemodialysis sessions via brachial arteriovenous fistula. After he was on dialysis his general wellbeing, appetite and functionality resumed. Despite feeling better after dialysis, the financial challenges and psychological impact of dependence on family and funds raised from the local community made him feel inferior as he lost his productivity and his previous plans and dreams didn't come true. ME mentioned he didn't get a chance for kidney transplant as he had no compatible relative kidney donor in addition to the financial problems.
After the Ethio-Tigray war broke out in November 2020 and the complete siege on the Tigray Region since June 2021; his live has been changed; his health had been negatively affected because of the suboptimal hemodialysis owing to the interrupted dialysis materials in the hospital. Since then he lost the "luxury" of passing and looking his own urine and had significant unintentional weight loss from 62kg to 53 kg, his hemoglobin drop from 10g/dl to 6g/dl and hence having extreme fatigue, feeling sick (nauseating, vomiting) and repeated hospitalizations.
He also had a moral breakdown and fear of death from air strikes which might hit him at any time as he is unable to run when it happens due to his illness. He put the phrase life meant by now "just surviving". He didn't pass without appreciating and thanking the dialysis unit for the relentless support stated "teams' equals' family" in moral build up and the professional inputs which he said it's beyond words. He said when the people of Mekelle fled away to rural community during the air strikes; the dialysis staff had risked their own life to saves lives of patients with kidney failure, and stated that the unit managed to re-use the same hemodialyzer, single dialyzer for four to five sessions, for the first time since its establishment, as a desperate measure though it wasn't without risks of severe blood streams infections, dialyzer reactions and less efficient toxin clearance by the reused dialyzer.
ME desperately looks forward to the international community, and different world NGOs give a look at those innocent victims fighting death in the dialysis unit. Humanitarian organizations might help by delivering consumables including dialyzers, blood lines, bicarbonate powder, acid concentrate jar and central venous catheters directly to the dialysis unit here in Ayder Comprehensive Specialized Hospital, Mekelle, and Tigray, Ethiopia.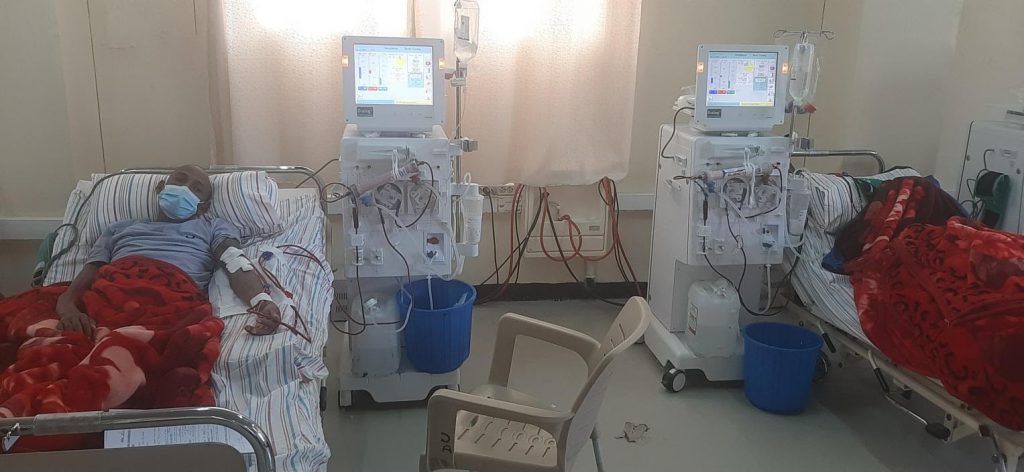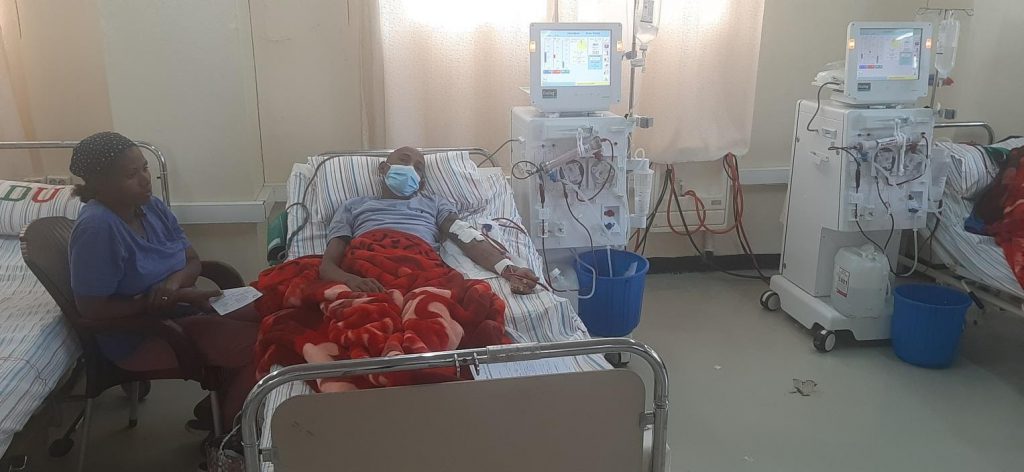 This story belongs to AG who was born in January 1979 in Enticho, Northern Tigray, Ethiopia. He is currently living in Mekelle. He attended school until grade 10 after that he discontinued and went to Saudi Arabia and lived there as an immigrant for 08 years and came back again to Mekelle before 03 years (2011). He has no work due to his illness and lives away from his family. He was married and has two kids (07 and 05 years old). They live with his grandmother in Enticho. His wife is in Saudi Arabia. He sold his 250 meter square house in Enticho in 2019 to raise his kids.
Four years ago, his kidneys began to fail. He was diagnosed with hypertension but he was not on medication for the high blood pressure calming just on lifestyle modifications. In 2010 he was diagnosed with kidney failure and he had been on hemodialysis for the last 03 years with twice weekly hemodialysis sessions. After the dialysis was started his health status had been remarkably improved. The challenges he faced after the dialysis started were financial shortage and hence dependence on the funds rose from his friends and the community. He was suffering from psychological stresses as he was unable to work and the trauma of not raising his own kids by himself. As his family home is far from the dialysis center, the only dialysis center in the region of Tigray, he was forced to rent a house nearby in Mekelle for the past 3 years.
He didn't have the chance for kidney transplant as he had no close relative who could be a candidate kidney donor. After the war broke in the northern Ethiopia, Tigray, the dialysis unit in this hospital is seriously disrupted as there are no consumables for the dialysis machine to function; he is suffering from symptoms of suboptimal hemodialysis including nausea, vomiting, feeling weak, fluid accumulation in his belly and lower legs.
Currently he had to undergo hemodialysis by reuse of dialyzers which he had four sessions, each for four hours, with a single hemodialyzer and his symptoms are not improving because of the inefficient or suboptimal nature of dialyzer re-use. He was thankful to the dialysis unit for taking the action to reuse dialyzers as a desperate measure to save lives. At last he mentioned the ongoing war in the Tigray region has seriously disrupted the functionality of the dialysis unit and begged the international community to take actions regarding the delivery of humanitarian aids including medicines and dialysis materials beyond showing sympathy.
This story belongs to MK who is from Mekhoni, Tigray. She is single and attended college and studied accounting but she stopped it when she reached second year because of her current illness. She lives with her Mom, 55 years old who works in a hospital warehouse.
She was diagnosed with kidney disease and hypertension in 2009 after she presented with body edema, shortness of breath, nausea and vomiting and after she had been on antihypertensive treatment for within one year of the diagnosis in 2010 she was started on hemodialysis via AVF and she had been on twice weekly sessions. After the dialysis started her feeling got better despite no urine for the past 03 years. She had no chance to get a kidney transplant as there is no candidate kidney donor from her family member.
After the Ethio- Tigray war started in November 2020 she had frequent interruptions of hemodialysis and her AVF failed and underwent permanent central venous catheter (left subclavian vein Permcath). Additionally, she is suffering from progressive anemia of kidney failure. She has frequent episodes of nausea, vomiting owing to the suboptimal nature of the re-use dialyzers. She also has easy fatigability, lower backpain and bone pain related mineral bone disorders but no investigation available to check her calcium, phosphorus and parathyroid hormone status and no medicine available to consider for empirical treatment.
She mentioned that the emotional stresses of lacking dialysis materials and medicine means 'death sentence' to her, she feels death is coming very soon. She has to travel two and half an hour distance by car to reach to the single dialysis center from her family home in Mekoni, and owing to the absence of fuel she has to pay 1000 ETB for a visit to the dialysis center and back, which almost rounds up for a payment of one dialysis session. She was getting money for her dialysis from the restaurant house rent her mom receives but now because of the ongoing war the house rent is not possible and she can't access money from the bank as they have been closed for the past 07 months.
MK desperately looks forward to peaceful and immediate resolutions of the conflict as patients with chronic medical problems including those patients on hemodialysis are affected the most to get medicines and appropriate treatment which they were enjoying before the war broke out.
The challenges faced by the dialysis unit in Ayder Comprehensive Specialized Hospital since November 2020 when the Ethio-Tigray war broke out.
Patients frequently missing their dialysis session because of the lack of transportation, owing to absence of fuels, to the single dialysis center in the region which is located in the capital city of Tigray, Mekelle,
Many patients have discontinued their dialysis treatment and were lost to follow up because of the ongoing war related consequences.
Lack of availability of different dialysis equipment/materials to run the dialysis unit including dialyzers, blood lines/tubes, bicarbonate powder, acid concentrate jar and central venous catheters.
Many patients with moderate to severe anemia because of the kidney failure can't get the access for medicines to treat their anemia including IV iron preparations and Erythropoietin injections.
No complete blood count test available in the hospital (Ayder Comprehensive specialized hospital) to diagnose and follow infections and anemia in the patients undergoing dialysis.
Significant proportion of patients on hemodialysis have symptoms bone mineral disorders related to their end stage kidney disease including secondary hyperparathyroidism, hypocalcaemia, hyperphosphatemia related bone problems but there is no any medicine available to treat these common disorders both in the hospital or outside the hospitals.
Lacks of cash money for their dialysis session as the banks are closed to access one's own account deposit.
Inability to get the maintenance of the water treatment filter and hemodialysis machine maintenance and lack of getting citric acid disinfectant solutions for the dialysis machines.
Frequent electricity interruption owing to the lack of electricity in the town.
Increased mortality/death among the dialysis patients because of suboptimal hemodialysis session owing to lack of dialysis materials.
Many patients are victims of under nutrition because of food shortage and hence morbidity and mortality is increased proportionally.
Psychological trauma and depression of the patients for fear of death any time near because of the lack of the dialysis equipments.
Mass Starvation
Surafeal, 3 months old, Male, from Mekelle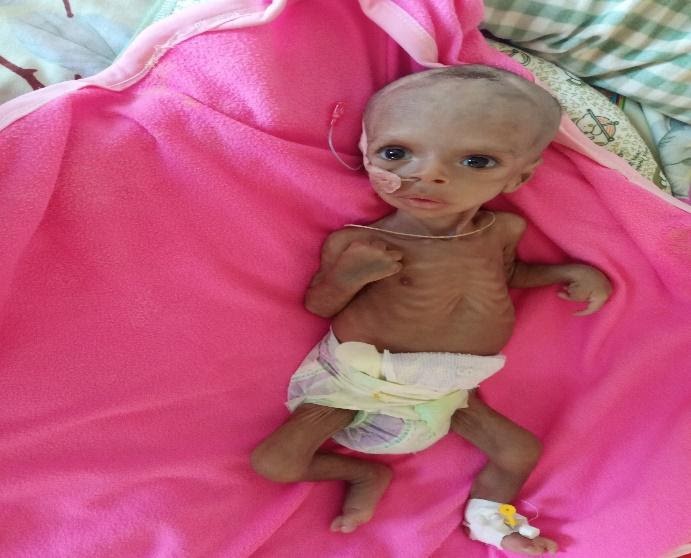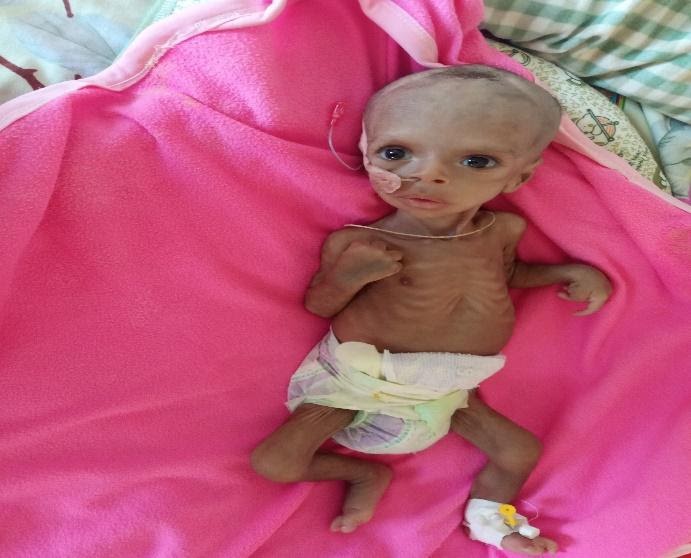 Admitted with the diagnosis of failure to thrive and surgically corrected duodenal-jejunal stenosis. Before the war, parents had good income. Father was a cashier in a construction company and mother was a housekeeper in a bank. Currently, they are unemployed and can't use their savings because their bank account is frozen like everyone else in the region. Mother has inadequate breast milk and can't afford formula milk. SM become malnourished at the age of 2 months and was admitted to Ayder comprehensive specialized hospital. However, parents discontinued the nutritional therapy and went home because of fear of airstrikes. At the age of 3 months, he is readmitted and on nutritional therapy.
Milat, 9 months, Female, from Hawzen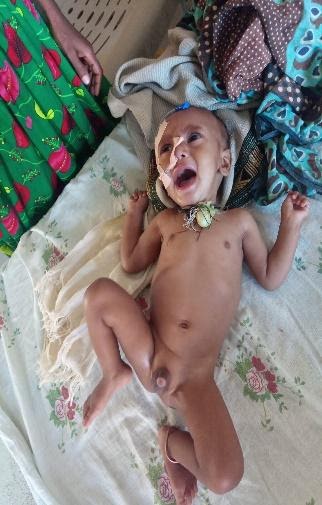 Milat was admitted with the diagnosis of complicated severe acute malnutrition and unvaccinated child. She was born in a forest while the whole family of 6 was hiding out from soldiers. Most of their cereals were stolen and the remaining was mixed with soil by soldiers. All household goods were also stolen. Their harvest was also burned down to ashes in a field. The father was forced to carry weapons to the battle field and was beaten by soldiers. The nearby health center is not providing service because its equipment, medicines, and vaccines are either stolen or damaged by soldiers. As a result, Milat is not vaccinated until now. Milat developed diarrhea and vomiting; then the parents borrowed money to come to Mekelle as the ambulance which was giving service in the nearby health center was stolen. Currently, the parents use the money for the transportation and can't afford the medications and food like the majority of the patients that are admitted in our hospital.  
Medhaniye , 4 years, Male, from Kilte awlaelo,
He was admitted with the diagnosis of complicated severe acute malnutrition(SAM). He was treated for SAM 2 months ago at Wukro hospital, discharged and improved. However, Medhaniye again became malnourished because the whole family of 7 has a shortage of food at home. This happened because the ox they used to plough their fields with was stolen, animal foods were burned down to ashes, and household goods were stolen by soldiers. In the nearby health center, no medication is available and its equipment is either stolen or damaged by the soldiers. He was referred to our hospital for nutritional treatment.
Rute, 8 months old, Female, from Abi Adi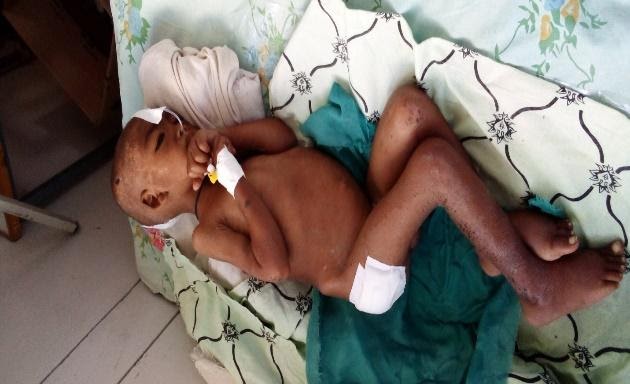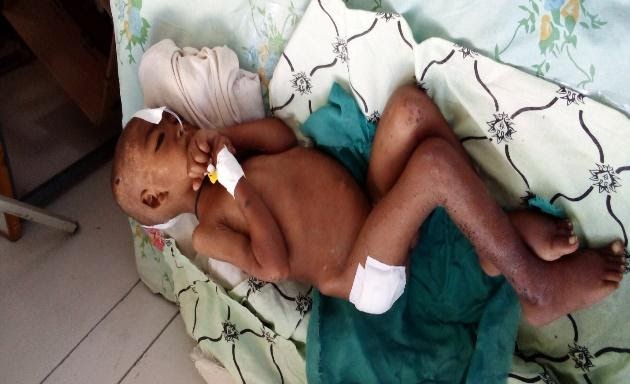 Admitted with the diagnosis of stage III acute kidney injury (AKI) with uremic encephalopathy, acidosis, hyperkalemia and SAM complicated with pneumonia and conjunctivitis. She came from IDPs, displaced from Humera, and her family had good income before the war. She was referred from Abi Adi hospital. She had hypoglycemia and dehydration. She was delayed after 5 days of diarrhea and vomiting. She did not pass urine for three days. She was unconscious. She was in urgent need of dialysis. There are no hemodialysis supplies. We were planning to do peritoneal dialysis using the locally available materials. But there were no materials needed to do peritoneal dialysis such as ringer lactate and 50 % dextrose. Unfortunately, she died of sudden cardiac arrest due to uremia.
"Since the siege, time of crisis, for patients having AKI and in urgent need of dialysis we have been practicing peritoneal dialysis using locally available materials. We have treated patients and we have survivors who might have died unless this life saving procedure is done. Currently we are having two children with end stage renal disease (ESRD) needing urgent hemodialysis. If not done they might end up with death." Pediatric Nephrologist
A 4-year-old boy, son to a staff in our hospital had remitted epilepsy and was seizure free for a year; the day Mekelle was intensively bombarded with jets in November, he appeared with breakthrough seizure, which was status epilepticus in duration and yet could not be brought to hospital the same day. People in Mekelle had panicked; movements were limited. Bombardment occurred near the hospital.
"The practice of patients with epilepsy or care providers of children with epilepsy completely changed; all antiepileptic drugs had interrupted in the 6 months (except for carbamazepine). To name some, phenytoin, phenobarbitone, valproic acid, clonazepam, and diazepam are not available. Families are obliged to offer near per need(PRN) type of schedule. Moreover, patients who were bringing medicines from Addis Ababa and abroad are completely denied. They have stopped them entirely; e.g Levetiracetam, Lamotrigine and Clonazepam." Neurologist.
Weldu 60 years, male, from Mekelle
A known diabetic patient on treatment for the past 17 years. There was interruption of medication during this 6 month because he couldn't buy from a private pharmacy due to lack of money. I Recently came to our hospital with diabetic foot ulcer for which right leg amputation was done. His suffering hasn't ended here; he was supposed to get antibiotics, but since it is not available in the hospital he is getting only wound care with locally made antiseptic fluid since none of the intravenous fluids are available either.
UF, 20 years old, Female, from Aksum
December 2020, she started to have symptoms of global headache which progressively worsened, over the following months she started having gait abnormality, vomiting, and three months prior to presentation to hospital she had progressive visual deterioration. They wanted to go to hospital, but they were in a war zone; they couldn't come due to fear for their life and no money for transportation and no health facility nearby to refer them, so they had to stay put while seeing her have all the symptoms. Finally, she was brought to our hospital in June 2021, CT scan done and corresponded to the possibility of pilocytic astrocytoma, hemangioma or ganglioglioma. She was operated on and the pathology result showed WHO grade 1 tumor which is a very rare tumor with good prognosis and 10-year survival rate of 84%. She was discharged from our hospital with most parameters improved, but she already lost her vision.
"The final question would be could we have halted the tumor from causing visual loss if she was not in a war zone?"