List of Ethiopian Universities Supporting the War on Tigray and Their Types of Support
At least 25 Ethiopian universities have provided financial, material and moral support for the war on Tigray.
On the 26th November 2021, Addis Ababa University warned its graduates that it may revoke their academic degrees if they supported the TPLF. African Arguments has noted that this "chilling effect" of the war on academic freedom extends beyond Ethiopia. While the statement from Addis Ababa University is repugnant enough, it is a tiny tip of the iceberg of the involvement of Ethiopian Universities in the genocidal war on Tigray (see this database).
The graph below for 14 universities was generated using some of the figures gathered from different media reports for some of the universities. The average contribution to the ENDF in support of the war on Tigray of the universities in this sample is 27.4 million birr. What is the opportunity cost of reallocating 383.6 million birr from a dwindling higher education sector to a genocidal war on a country's own people? When a university supports a genocidal war, does it have any place for scientific integrity?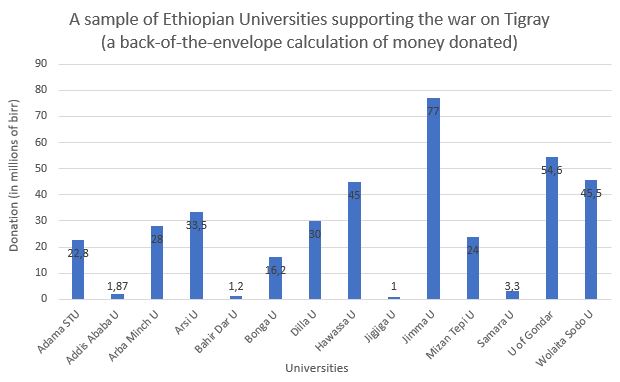 The following is a list of 25 Ethiopian universities supporting in all possible ways the ongoing genocidal war on Tigray. Below, we present, with links, the different activities the Ethiopian universities did in support of the war. We try to collect sources showing what 25 Ethiopian universities have done in support of the war.