Geremew Demse: An Ethiopian Soldier from UN Interim Security Force for Abyei (UNISFA) to Mahbere Dego Massacre
An Ethiopian soldier who was a member of Ethiopian Peacekeeping Force in Abyei, Sudan proudly posts videos of massacres from the Mahbere Dego Massacre. He also posts other videos and photos of himself and places in Tigray. The Soldier is from the Amhara region of Ethiopia.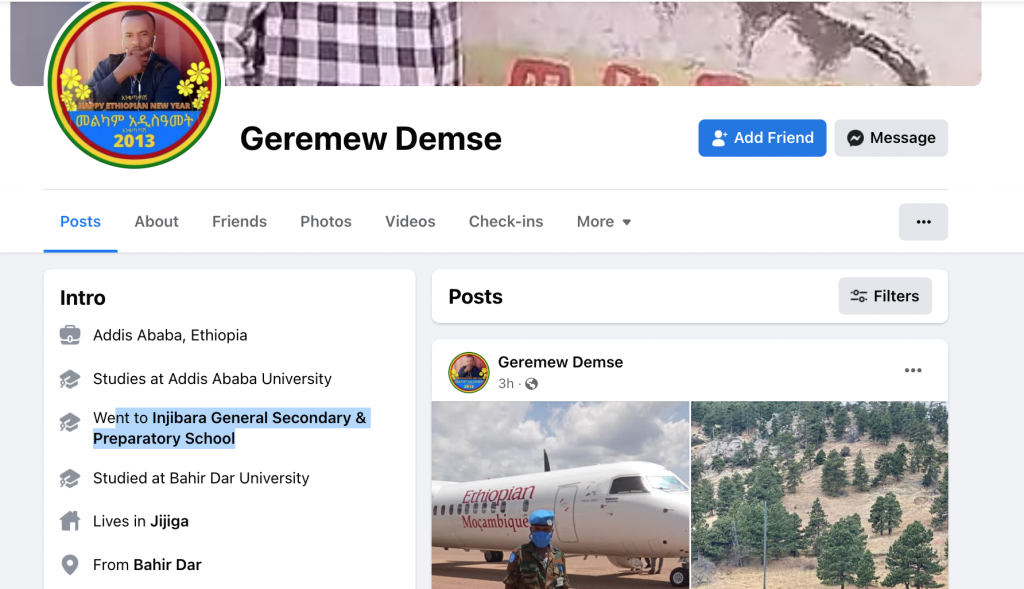 The Mahibere Dego massacres are gruesome executions of Tigrayan civilians by Ethiopian soldiers on 16-18 January 2021 in Mahbere Dego, a small town in Central zone of Tigray [1, 2, 3, 4, 5].
The (former) UN Peacekeeping soldier posted the videos on Mahbere Dego Massacre on 15 February 2022 [FB Page, Archived]. The Mahbere Dego massacre videos he posted contain one new video. One other video contains clear information on the Ethiopian soldiers asking the victims for information. A part of the new video is below. It shows a group of Tigrayan men being taken by the Ethiopian soldiers to the massacre site. Some could be seen with the same clothes and shawls in the massacre videos.
A group of Tigrayan men being taken to the massacre site of Mahbere Dego
A version of the scene below has been seen before. Here the soldiers are asking the civilians for information. After sometime, one of the soldiers says "these ones should never be released".
Versions of the other two videos he shared have been seen before. The videos can be seen in his post in his Facebook page.
About the Ethiopian Soldier
His name, according to his Facebook profile, is Geremew Demse. He was a member of the Ethiopian Peacekeeping force in Abyei, Sudan. All images have been taken from his Facebook Page.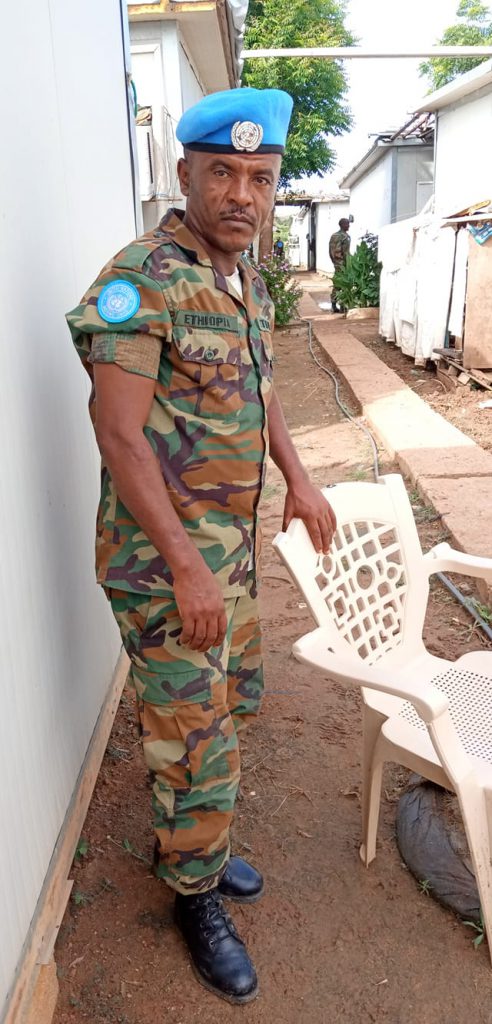 According to his profile, he flew from South Sudan to Ethiopia on October 13, 2020, just about three weeks ago before November 4, 2020, the start of the war on Tigray.
Geremey has posted many pictures and videos of himself in UN mission in Sudan. In 6 August 2020, Geremew posted [archived] pictures of himself in what seems a UN soldiers meeting in an open field in Sudan. He posted the photos with the message that Ethiopia soldiers were fulfilling their peacekeeping mission in Abyei. He then posted a picture of himself boarding a plane to Ethiopia on 13 October 2020.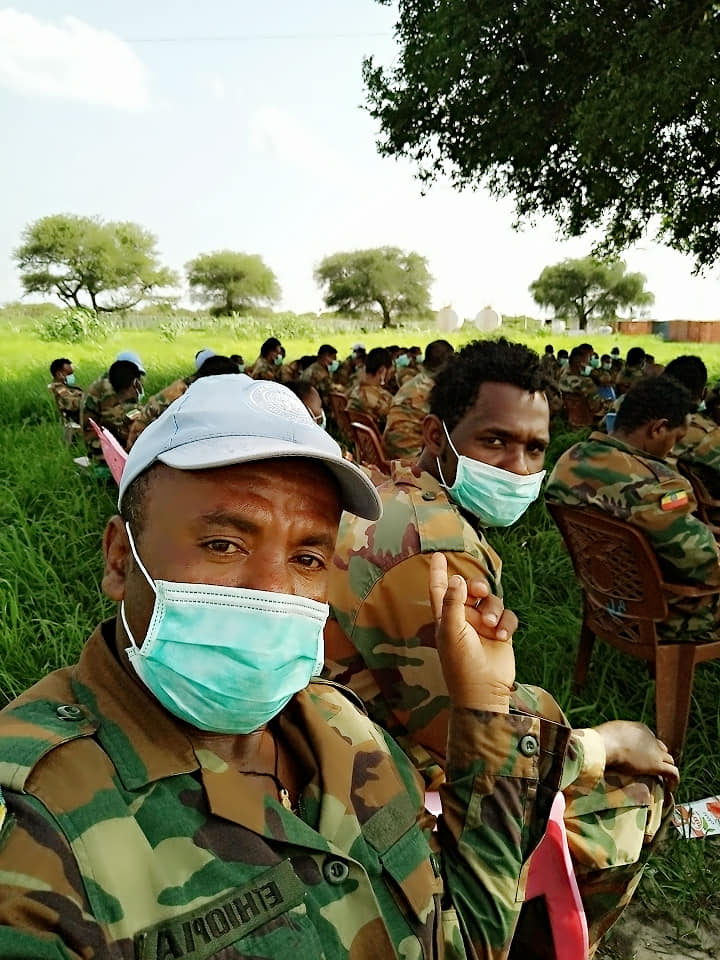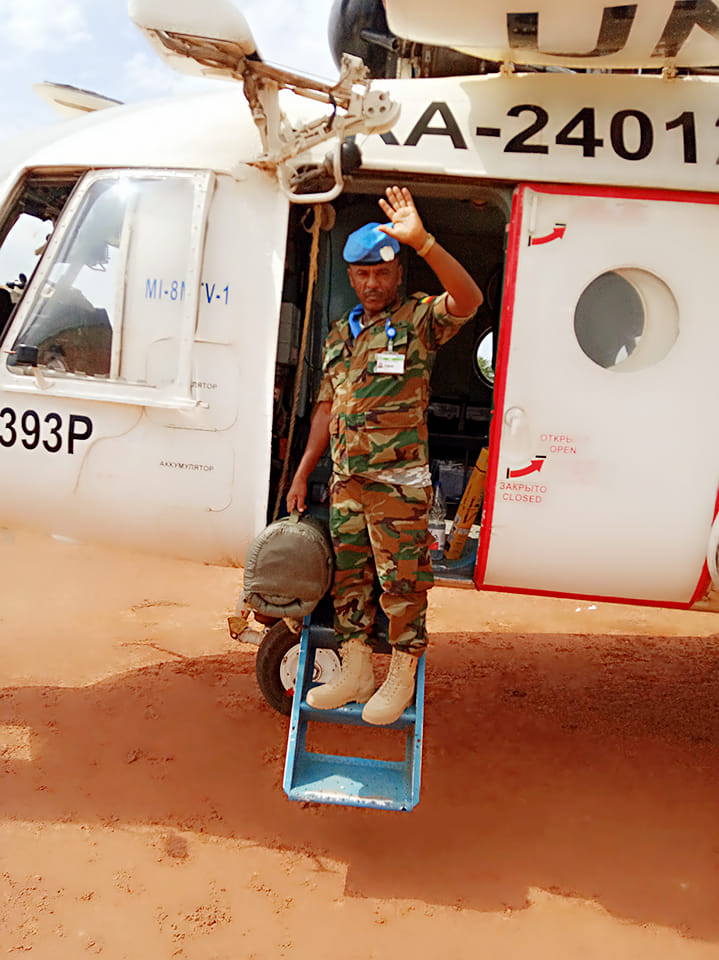 After this, Geremew posted pictures of himself in civilian clothes, of friends and girls, of Asamnew Tsigie, Abebaw and other Ethiopian generals. On 16 November 2020, he posted a picture of himself in military fatigue and communications radio. After that, he didn't post any picture until December 4, 2021. This coincides with his joining the war on Tigray, which has no internet. After December 4, he again started posting pictures, from his involvement in the war on Tigray.
Other Images of himself and Places in Tigray.
The videos have been posted by an Ethiopian soldier on his Facebook Page. The soldier has also posted pictures of himself in several places in Tigray. The first two photos below might be in the area around Mahbere Dego. The others are in Aksum, Mekelle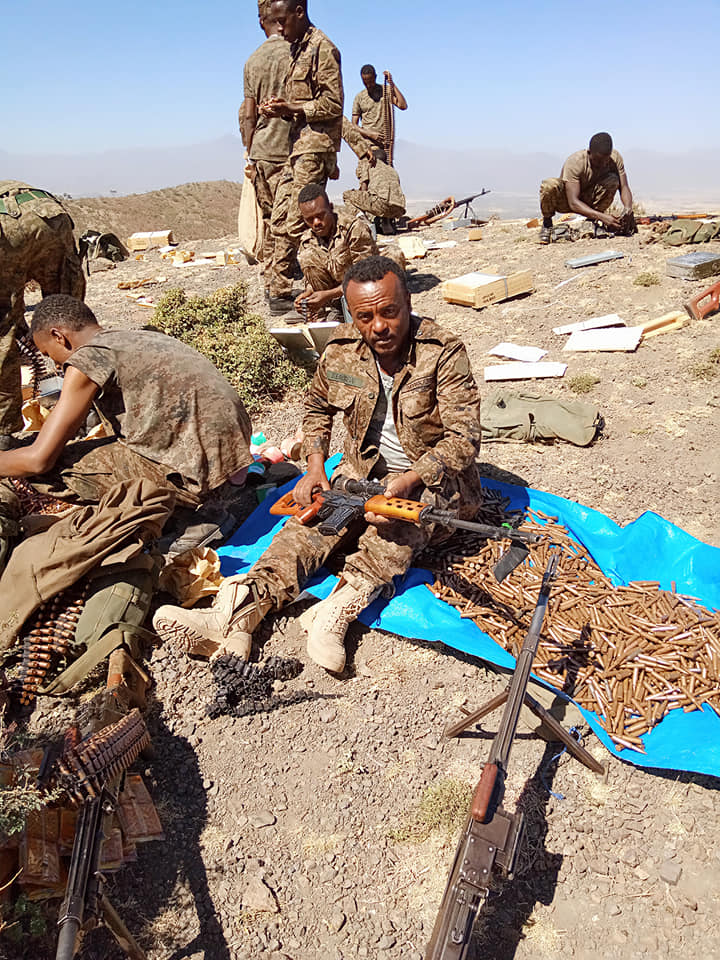 Geremew Demse has participated in some leadership capacity in the war on Tigray, and most likely in the Mahbere Dego massacres. As is clear from his FB posts, he was a member of the UN Ethiopian Peacekeeping Force in Abyei.