Our Wounded Heroes Deserve All Tigray Can Afford, and More
By Yibrah W. Weldu (PhD)
Watching the wounded heroes of Tigray take to the streets of Mekelle recently, to voice their concerns was heartbreaking. But learning from various social media reports that their protest was met with tear gas from security forces was shocking. These heroes risked everything to protect their people from the betrayal of their own country and its mercenaries, only to return home with life-altering injuries and disabilities. Their pain and frustration are sore reminders of the deep cost of war and the responsibility that we have as a society to care for those who have given so much.
The youth of Tigray fought back against the genocidal invasion of Ethiopia, Eritrea and Amhara forces, with unfathomable gallantry despite the overwhelming odds against them. Many of Tigray's young, educated youth, including teachers, doctors, nurses, engineers, artists, farmers,…etc. were forced to abandon their way of life to join the armed struggle and many paid the ultimate price. Together with their community, they suffered from starvation and lack of life necessities imposed by the invading forces, which enforced a cruel siege on the entire region. They accepted and faced all these challenges as an optionless call of duty that time imposed upon their generation. On top of these challenges, they literally put their lives on the frontlines to protect their people and bore the brunt of the war. The US Department of State recently declared the forces of Ethiopia, Eritrea and Amhara committed "crimes against humanity" in Tigray, clear evidence that these fighters (tegadelti) were no ordinary rebellions, but ordinary people who refused to perish without fighting back against ruthless forces of injustice that invaded their cities and villages.
Driven by a deep sense of purpose and love for their people, and an unshakable determination to protect the helpless population from the multi-pronged onslaught, they resorted to the only honorable and selfless but extremely costly heritage they know at such a time of injustice and savagery- the heritage of signing up to be tegadalay, (plural tegadelti), volunteer freedom fighters. These are not the typical rebellions fighting for power, nor are they regular soldiers motivated by career, financial or other benefits, but volunteers who deeply accepted that their cause is bigger than their lives. Their story is one of extreme selflessness, sacrifice, courage, and unwavering commitment to their community, identity, and heritages. Tigray has suffered the consequences of generations of devastating wars. Many of today's tegadelti have lost so much from previous conflicts. So, peaceful conflict resolutions are always and must be the rule of the land. However, the legacy of these warriors will endure, reminding future generations of Tigray to stand up for their freedom and human dignity even in the face of seemingly insurmountable adversity.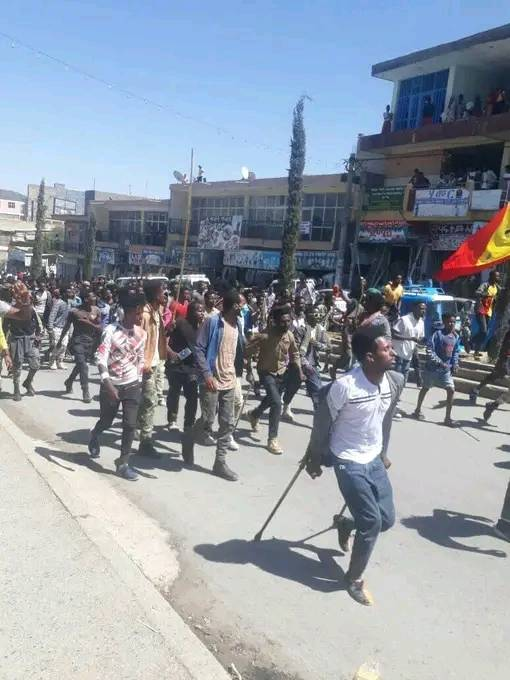 Considering the remarkable patience, resilience, and selflessness these tegadelti showed in the past two brutal years, accusing them of asking too much falls flat in light of reality. The shocking attempt by security members to silence these heroes by force signals, those who ordered the action felt these tegadelti were asking too much than they deserve. What could they possibly ask for that surpasses the value of giving their own lives as a gift to their people? Their recent demonstration demanding basic care that they know could now be affordable, following the Cessation of Hostilities (CoH), was not only fair but also painful to watch, due to the mere fact that they had to ask for it in such a manner. They joined the fight to die as happy warriors but fortunately many survived, albeit with tremendous physical and perhaps mental wounds. Now, it's the duty of the society and the government to give care back to those who gave everything. Many of them were among the strongest and ablest within their communities. For many, their disabilities could mean their personal dreams have been cut short, but at minimum, they should not feel neglected by their own leadership and community.
The road to recovery will undoubtedly be a long and arduous one, and the region, at least in the short term, will surely struggle to provide much of what the wounded heroes need and deserve. However, they must be the center of all the care the region can afford, and they must be at the heart of its rebuilding efforts. Neglecting these heroes is not only a betrayal of their sacrifices but also dishonoring the so many that perished fighting alongside them. The implementation of the peace agreement is still in early stage, with key provisions including restoring Tigray's constitutional boundaries and the return of the displaced people to their homes, yet to be implemented. But it is never too early to start giving these heroes some hope about their future.
Tigray will require external assistance to revive its infrastructure and economy. But external help is not guaranteed and reliable. However, the people and the government can and must start rebuilding the war-torn region with its local resources. Two major resources that can be put to effective use are its resourceful and hardworking people and its land. These available resources must be directed at helping the wounded heroes.
One of relatively effective paths the government can start caring for these heroes as part of the recovery process is by initiating massive housing projects. With quick and proper urban planning, allocating enough land for near future construction of low-cost common housing projects in various cities and towns of Tigray for these heroes, and their families, the families of their fallen friends will surely jumpstart not only the devastated economy but also the hope of the wounded heroes. Such an undertaking will undoubtedly take years and significant capital to accomplish, but it will immediately provide them with hope and inspire them to do their part in realizing these projects. Depending on their abilities and physical conditions, these heroes and their families can be offered employment opportunities in the construction projects. Such bold and broad-reaching programs will slowly rebuild the devastated economy and uplift the hopes of its wounded heroes straight away.
For such projects to be effective, transparent, inclusive, and non-traditional resource mobilization approaches will need to be employed. To convince these heroes and the youth in general, that they can build their future in the land they call home, the government can provide them with binding certificates of future ownership immediately, not empty promises. Mistakes of the corrupt, unpredictable, and wasteful projects the EPRDF-led government implemented in Addis Ababa must be avoided. Well-thought geographical distribution can make such a project the seed for Tigray's successful future urbanization. These heroes gave their lives to Tigray; Tigray must now give them a piece of itself without pre-conditions. This can be done across the board to ensure inclusiveness, fairness, and decisiveness. This could be one great way to fight the dangerous trends of human capital flight to the Middle East and other areas. Such a project, if executed effectively, can take the land away from corrupt politicians and fake investors and put it in the hands of its people. The diaspora, which proved its commitment to stand with its people in its dark hours, can and must continue to play its part in this rehabilitation journey. Additionally, the hardworking, generous local population can also be mobilized to continue providing voluntary assistance in materializing these projects.
The wounds of war do not just go away. Proper treatment will be required across its wide spectrum and that treatment must start with the literal, physical wounds borne by those who heroically took the bullet for their people . So, they will require immediate help to heal and then ongoing care and support to live with their disabilities and physical scars. It is our duty as a community to ensure that these wounded heroes live out their remaining days with pride knowing their sacrifices were not in vain.
---
Yibrah W. Weldu (PhD) is a Texas-based engineer and advocate of peace for the people of Tigray. He has worked as a civil projects engineer in Ethiopia before moving to the US for graduate studies. He has a PhD in Engineering Science and works as a Sr. Business IT specialist.